On the history of wine
Küps, Karas, Kvevris, Dolias, Pithos, Tinajas, Talhas de barro and Amphorae
           Udo Hirsch, Güzelyurt/Turkey 2016 
(published in: keiko&maika. 2016, Voyage en Amphore,  WOINO, Villfranche sur Mer, France)
Prehistory
Knotted carrier nets, bags and buckets made of wood and hides, baskets lined with plaster, bowls made from pumpkin skins, small and large pots made of wood or stone, as well as other natural containers were used long before hunters and gatherers became sedentary. Places where food resources were abundant were particularly suitable for staying longer or coming back again and again. Those were the sites where archaeologists discovered stone jars cut into the rock and even large rock-cut troughs.
Although the hunting and harvesting groups did not yet live settled lives, some would celebrate great festivals and construct gigantic temple territories. Göbekle Tepe near Urfa in the south-east of Turkey is one of them. The grounds would be used for only a short period and then filled up with rubble and an enormous amount of animal bone. Close to the site, large stone troughs and stone vats with a capacity of two thousand litres or more were found cut into the rock. These stone tubs showed small quantities of calcium oxalate residues. As grinding and fermenting of cereal grain produces calcium oxalate, there is reason to presume that malt beer was brewed for the temple feasts. 1
Foto 1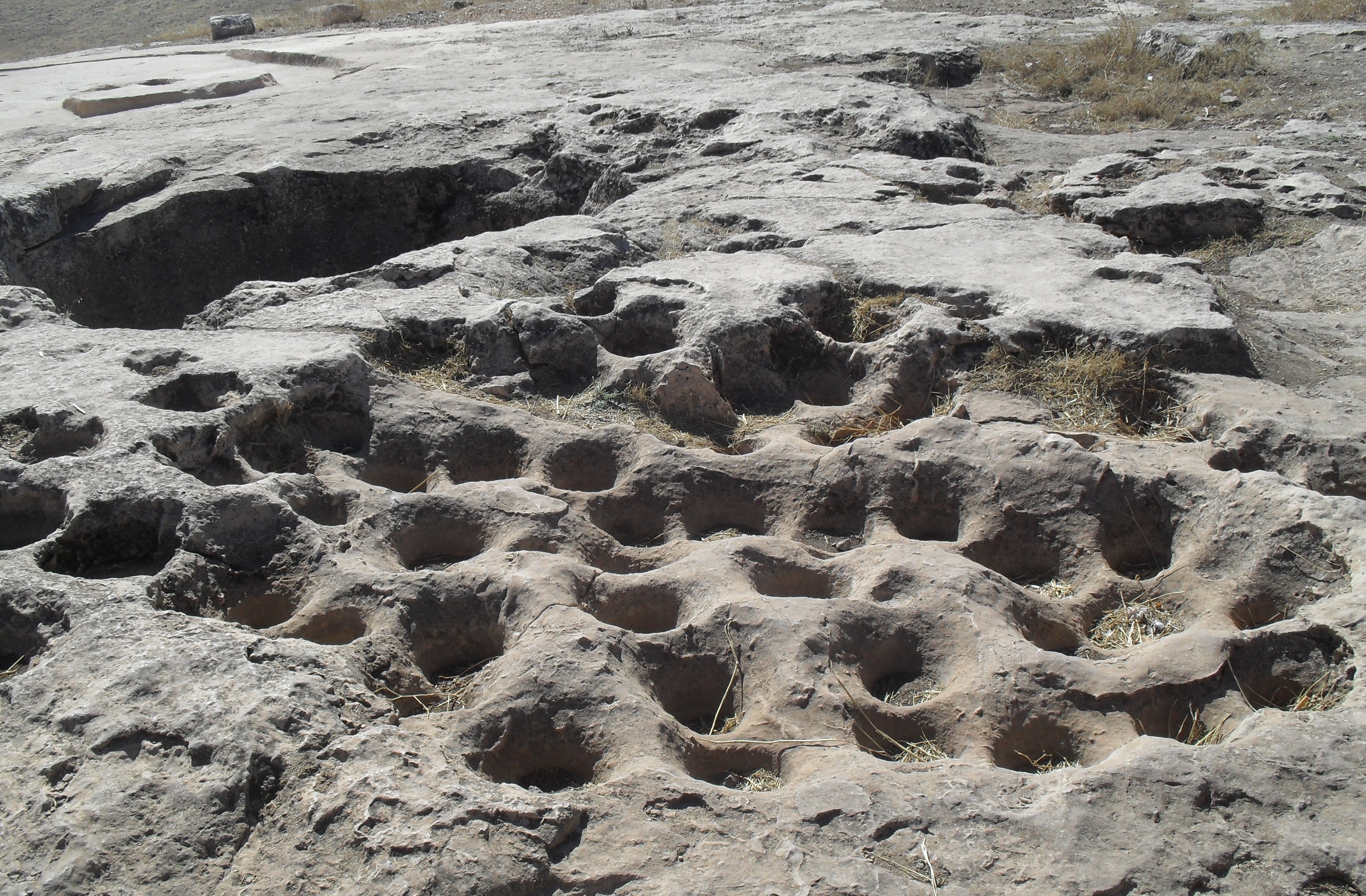 1 Göbekle Tepe excavation,. rock slab showing large hewn rock troughs with smaller cavities, possibly used for the fermentation of barley grains and beer brewing
Göbekle Tepe is situated at the centre of the so-called Fertile Crescent stretchig from Syria through south eastern Turkey, Northern Iran to the Zagros Mountains of Iraq. About 14,000 – 10,000 years ago, this region supplied the largest concentration of cultivatable wild plants and wildlife suited for domestication. Therefore it is not surprising that very early traces of temporary and, later on, permanent settlement were found in the area of the Fertile Crescent.
A high occurence of local wild grain can neither be used up within a short time nor can it be transported in large quantities. So the surplus of wild grain was first stored and guarded in holes in the ground. The larger the stocks of grain were the longer did the early people stay at the same place. Since harvesting and storing were repetitive procedures each year, it was necessary to arrange housing and re-usable storage places. It soon became apparent that cereal buried in holes in the ground germinates after some time. This experience did not only have a revolutionary effect on the economy of hunters and gatherers, it eventually also resulted in numerous "inventions" of ways to store cereal and other foodstuffs. In the beginning, the inside of the earth hole was probably smoothed out with humid soil. Sometime later the inner wall of the earthen pot was first smoothed with clay and then hardened by a fire in the hole. In these earthen tubs with inner walls of hardened clay, cereal could be stored much longer. The experience that grain germinates in soil, i.e. that the cereal plant is re-born in a hole in the ground, had far-reaching consequences for the ancient people's religious conceptions. It is therefore not surprising that they consequently used the cereal containers to "bury" their dead, so that re-birth would be ensured.
Women then began to plant seedlings of germinated wild grain in suitable places. So they could become independent from the rather limited natural supply of wild cereal. This activity actually set the process of the "Neolithic Revolution" off, which implies cultivation and domestication and eventually culminated in the world-wide spreading of mixed farming.
Very early settlements
Nearly all of the very early settlements are situated within the inner circle of the Fertile Crescent. For some time they still served as temporary dwelling places. They were primary places of the transformation from a society of hunters and gatherers to an economy of mixed farming.
Map 1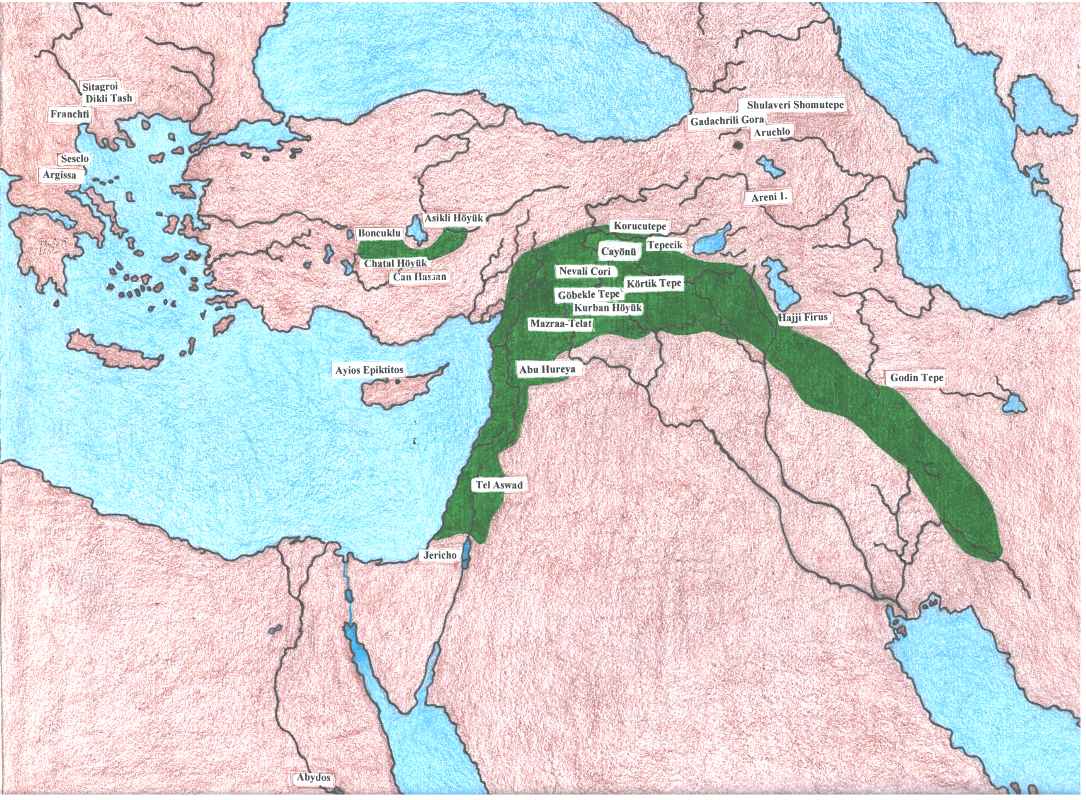 2 Fertile Crescent showing the most important early settlements and grape discovery sites 2
The following are very early settlements, from east to west:
Abu Hureyra 13000 – 6000 B.C. earliest known settlement, continuously populated to beginning of farming 3 4
Hallan Chemi 11700 – 11270, 9500 B.C. on upper Tigris, first indications of transition to farming and pig domestication 5
Jerf el Amar 9600 – 8500 B.C. first changes to farming 6
Kötik Tepe from ca. 9300 B.C. one of the earliest settlements in the western part of the Near East – sufficient supply of food stuffs – storage facilities – fabrics. Elaborate ornamentation on stone pots and religious rites suggest a complex society. As domestication of animals and cultivation of cereal was not practiced, the people of Körtik Tepe are known as settled grain-pickers. 7
Göbekle Tepe 9000 B.C. and earlier, no settlement but cultural center with large temple sites and cult places, shortly before beginning of settledness 8 9
Nevali Cori 8600 – 8000 B.C. beginning of settledness and farming, einkorn, barley lentils, peas, vetches, almonds, grapes; several hundred clay figurines, fired at 500-600°C, indicating the development of the firing technique for pottery making 10 11 (www.ancient-wisdom.co.uk)
Tell Mureybit 8050 – 7550 B.C. possibly first cultivation of cereal, first beer, from 7350 B.C. onwards round buildings, from 7000 B.C. first rectangular houses, crop farming 12 13
Aṣıklı 9000 – 7500 B.C. situated outside and north-west of the actual Fertile Crescent at a height of1400 m, northernmost Early-Neolithic settlement, transition to plant cultivation (maybe also stock breeding), rich sources of cereal varieties. Abundant deposits of high quality obsidian might have been the primary reason for settling in the direct vicinity of volcanic Hassan Dağ and Göllü Dağ. As early as 10,000 years ago, obsidian trading routes were obviously already going from this region right through to Jericho and Cyprus, as findings of "Aṣıklı Obsidian" have proved. Payment in the form of marine gastropods was found at Aṣıklı, accordingly (Mihriban Özbasaran pers com). 14
Cayönü 7250 – 6750 B.C. emmer wheat and einkorn cultivated, grapes and figs wild, hackberry fruit (celtis), pistachios and almonds collected, first attempts at pottery 15 16
Early settlements in the Zagros Mountains, south–eastern part of the Fertile Crescent
Zawi Chemi 10,600 B.C. early pre-ceramic settlement, hackberry fruit (celtis) 17
Jarmo 7000 B.C. oldest farming community – first ceramics, coarse, tempered with minerals 18
Ganj Dareh 8000 B.C. goat already domesticated – first attempts at pottery making – large freestanding sun-dried storage clay pots 19 20
Ali Kosh 7500 B.C. beginning of grain cultivation in south eastern part of Fertile Crescent, Zagros Mountains 21
Eraly settlements in the south-western part of the Fertile Crescent
Ain Mallah 10,000 B.C. roundhouses and 80cm deep storage pits, the insides lined with white plaster – use of wild cereal and wild animals – earliest evidence of dog domestication 22 23
Jericho from 10,000 – ca.8000 B.C. first farming of emmer, barley and pulses – known for its big tower and wall 24
Ain Ghazal 7500 – 5000 B.C. extremely large prehistoric settlement – beginning of farming 25 26
The knowledge of domestication first spread westwards and eastwards from the above settlements and also from other places in the region. Having learnt that a small bag of grain and some sheep or goats was enough to survive they could now move to new places where they would settle.
Different routes of early agriculture
As early as about 8300 B.C., farming was brought from the Levant to Cyprus and at the same time via Anatolia to Greece and Bulgaria, from there across the Balkans, along the Danube and right up to northern Europe.
The second route went across Greece to south east Italy, along the coastlines of Spain, Portugal and southern France, to the west of France from where it crossed the British Channel.
The third route led to Armenia and Georgia and possibly to eastern Ukraine.
The fourth route was going via the Sinai Peninsula to Egypt and northern Africa.
Other routes ran to southern Arabia, Iran, Afghanistan and from there further eastwards.
Karte 2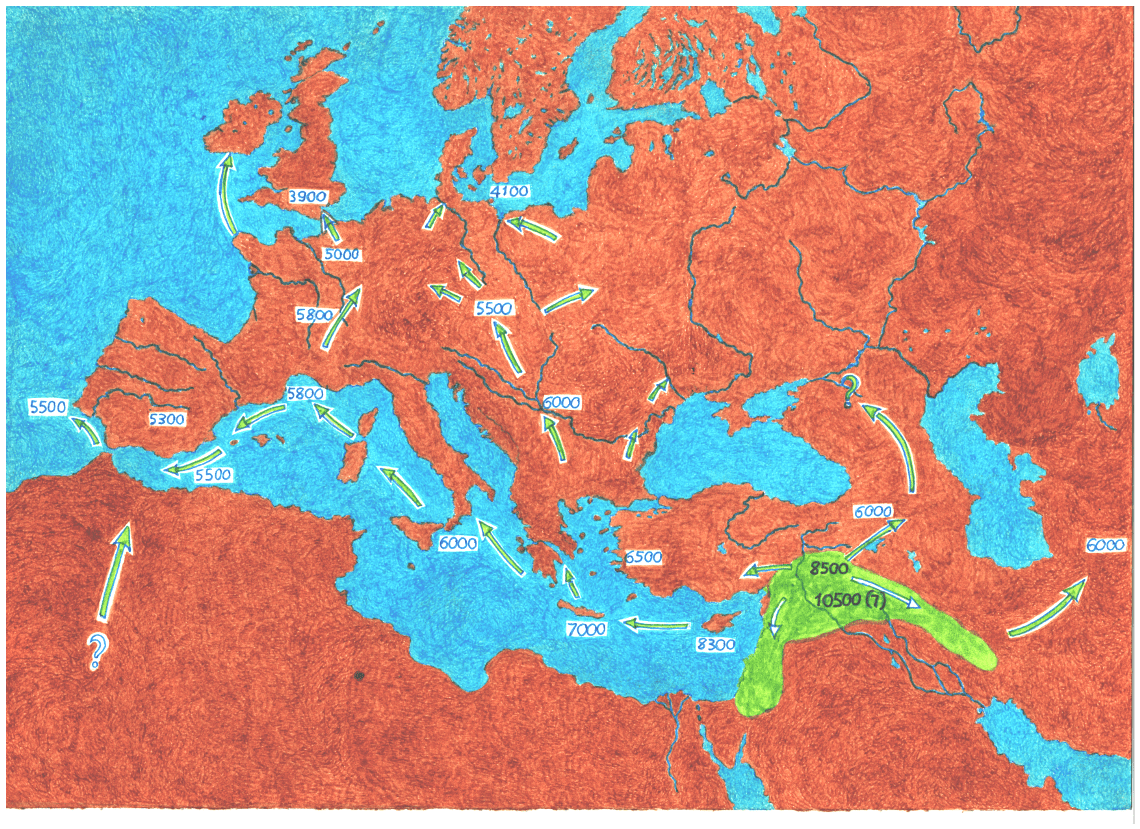 3 Fertile Crescent, routes and times of dissemination of Neolithic period. The map is based on studies on the dynamics in Neolithic societies and descriptions of the dissemination of the Neolithic period (by Römisch-Germanisches Zentralmuseum Mainz)
Many early Neolithic settlements were quite large. Pottery was still unknown. Yet some kind of organization would have been necessary to cover the different aspects of life. Within such a structured community it was then possible to release certain individuals from the task of food-producing and engage them to do other jobs, e.g. perform ritual acts or make special objects. Although there had earlier on been several attempts at making pottery, actual ceramics did not exist before 6500 B.C. Then, with the beginning of the ceramic Neolithic there were ceramic receptacles for everyday use as well as for ritual purposes.
Subsequent Neolithic settlements
According to the time-related spreading of the Neolithic period, larger settlements of secondary importance for the (further) development of mixed farming were also growing in other regions. Well-known sites of the Neolithic Revolution in Anatolia are Chatal Höyük, from about 7400 – 5400 B.C. 27 28 ,Can Hassan, from 6500 B.C. 29 30 ,Kösk Höyük, 6300 – 5600 B.C. 31 and Hacilar, 5400 – 5000 B.C. 32 . At these settlements, agriculture would be refined. Cattle may even have been domesticated in Central Anatolia, where sufficient knowledge of breeding had definitely been acquired in the meantime. Large murals were found at Catal Höyük. At Hacilar, an amazing variety of richly ornamented ritual ceramic containers and earthenware drinking vessels was discovered. Localities of up to 3000 inhabitants are evidence of rapid economic and cultural development, which was similarly taking place in the West and in the East.
There are several particularly interesting Neolithic settlements north of the Fertile Crescent, in the southern Caucasus Mountains: Aruchio 33 and Gadrachili Gora, both 5800 – 5200 B.C. 34 , Shulaveri, ca. 5400 – 4200 B.C. 35 . With numerous archaeological finds at hand, it is easy to imagine how mixed farming was spreading in the West. In the North and in the East, however, reliable research results are not available. Excavations at Aruchio are currently carried out in order to secure the Transcaucasian data and to gain detailed knowledge about the early farming communities in the Caucasus Mountains 36 .Hajji Firuz, 5400 – 5000 B.C. 37 and Godin Tepe, 3500 – 3200 B.C. 38 are well-known settlements in the North. Tepe Hissar, ca. 4500 – 2000 B.C. 39 in the East is known for mixed farming and exploitation of local fruits such as olives and grapes, as well as other plant resources. Animals were kept and livestock bred.
A brief overview
Storage of dried cereal, pulses and other plant products – at first wild, later cultivated – was in the beginning most likely practiced with various storage places and receptacles, e.g. holes in the ground. Animals were also kept and later bred as suitable livestock. Both food-storing and animal-keeping aimed at having vegetable and animal foods available at any time.
Over the following two- to three-thousand years it was of key importance to the Neolithic people in the Middle East to find suitable ways of extending storability of food stuffs – quite an essential issue even today – and to exploit new resources for securing the food supply. Thus, the increasing population could be nourished. Cult and culture could develop.
Deities were becoming feasible. The early gods were held responsible for fertility and re-birth, the later ones for fertility and weather, also for fertility and fortunes of war. Multiple variations of the "Sacred Wedding" were celebrated and eventually the king, outdoing the priestess, would be hailed as God's representative.
The above overview is just a brief summary of 6000 years of prehistoric development and the process of change in which pottery was becoming more and more important.
Towards the end of the Middle Eastern Neolithic period, many larger settlements were breaking up. The next epoch is called the Chalcolithic period or Copper Age. In the Middle East, this era continued for about 1000 years. The population increased and spread in every direction. Small and even tiny settlements formed wherever the land could be worked well. Simple peasants and stock-breeders were living amidst their fields and pastures. Only plain coarse ceramics for daily use, a few minor figurines and bowls were excavated at these sites. Larger but easily portable storage vessels were scarce.
From village to centre of economy and trade – the domestication of olives, dates, figs, and grapes
The settling structure changed again with the beginning of the second half of the Chalcolithic period. Numerous larger settlements and even trading centres formed, other than a large number of villages. Then, at the transition from the Chalcolithic period to the Bronze Age, these settlements would become principalities, city-states and kingdoms. Writing developed. With growing centres there was obviously more demand for ceramic ware. Simple smaller and bigger containers for the storage of food stuffs were needed, but also elaborate cult vessels. Consecration bowls and jugs in the shape of animals, pots for mixing ceremonial drinks and large containers for storing oil, beer, wine, water, cereal, meat, fruits etc. are of specific interest. They are also subject in most of the early scriptures where the different deities are recorded and their functions explained in detail. They are at the same time supreme rulers, guardians and protectors. Thus men have to offer consecration dishes and ceremonial drinks as a sacrifice to the gods.
Until this time peasants had been able to supply themselves with cultivated vegetables and cereal, wild fruits and other wild plants, but because of the now enlarged settlements the demand for fruits and fruit products was steadily increasing. According to Margarete Tengberg, fruit trees such as olives, figs, dates, and grapes were first domesticated during the late Chalcolithic period. At this time, all necessary pre-conditions for successful wine-making were given. Although M.Tengberg does not exclude the cultivation of grapes at an earlier point of time, there is no evidence of the end-product being wine. 40
As large clay vessels are mostly associated with wine or wine making, a number of early finds of grapes (vitis vinifera) are given below:
The most important finds of grape (vitis vinifera) from prehistoric times
1 Tell Abu Hureya, on the Euphrates, in Syria, 13 000 – 9500 B.C. Grape seeds of vitis vinifera ssp.sylvestris. 41
2 Terra Amata, near Nice, France, 11 000-8000 B.C. Grape seeds of vitis vinifera ssp.sylvestris. 42 The earliest human settlements, dated 380 000 B.C, are known from this cave (another dating is 230 000 B.C.) 43
3 Franchti Cave, Argolid, Greece, 11 000 B.C. Grape seeds of vitis vinifera ssp.sylvestris. 44 Only one single seed of wild grape from the period was found in the cave. The cave was used again and again, over many thousands of years (see below). The Franchti Cave is situated in the well-known distribution area of vitis vinifera ssp.sylvestris, the wild winegrape.
4 Grotta del`Uzzo, Sicily, Italy, 10 000 B.C.  Grape seeds of vitis vinifera ssp.sylvestris. 45
5 Körtik Tepe, south-eastern Anatolia, Turkey, ca. from 9600 B.C. Sparsely populated but sedentary with rich culture, hunting wild animals, fishing, collecting plant resources, settled grain-pickers                                                 Secondary burials, cleaned and painted bones as well as differently equipped burial places suggest a hierarchical social structure. 46 Tartaric acid was found in two stone bowls. 47 McGovern concluded that these bowls must have contained wine. 48
6 Tell Aswad, Syria, 9500-8700 B.C. grape seeds of vitis vinifera ssp.sylvestris. 49
7 Jericho, Palestine, 9600-9000 B.C. grape seeds of vitis vinifera ssp.sylvestris 50
8 Göbekle Tepe 9000 B.C. and before,  Cult centre with monumental architecture, not as settlement, chronologically shortly before beginning of sedentariness 51 52
Big stone bowls were found scattered in working areas, adjoining the "temple courts". These bowls contained residues of beer, but no grape wine residues.
When I re-visited Göbekle Tepe in October 2013, more steles and also rooms had been excavated. In two rooms, there were rather large stone vessels (about 160 l. capacity), which according to the excavation team would have contained beer. A big bone on the bottom of one of the large vessels might have been used to stir the beer. 53
There is a large smoothed bedrock just below the excavated temples. Two round tubs are cut out of the rock. The ground between the tubs of at least 3000 litres of filling capacity is covered with numerous shallow depressions, which look like small bowls. In these bowls barley could obviously have been squashed, easily germinated and then transferred into the stone tubs for fermentation and beer brewing. Hundreds of people must have been involved in the building of the site and later in ritual acts and dance festivals. So, this brewery with the two tubs would have been well suited to producing sufficient beverage for several festive days. If this site was indeed a beer brewery, the production of wine in the Neolithic period becomes most unlikely. It is quite simple to make the cult beverage beer as part of everyday use of cereal, whereas wine production requires an economic system that goes at least beyond subsistence economy. Hermetically sealed containers are also essential. But these conditions were not fulfilled with early Neolithic settlements.
9 Nevali Cori, south-eastern Anatolia, Turkey, 8,600 – 8,000 B.C.   Sedentariness, period of transition to farming
Einkorn was the most commonly cultivated plant, followed by two-grain wheat. Barley was only evident in its wild form. Lentils, peas, vetches and other pulses supplemented the food supply. Pistachio nuts, almonds and grapes would be collected. Foodstuffs were stored in various containers, which could be made from stone, but pottery did not yet exist. 54 55
10 Cayönü, south-eastern Anatolia, Turkey, 7500-5800 B.C.   Cultivated emmer and einkorn wheat was found from the period between 7250 and 6750 B.C. Wild grapes, wild figs, hackberries, pistachios and almonds were collected. First attempts at pottery making are evident. 56 57 Cayönü was inhabited for about 2000years during the early Neolithic period. The comprehensive use of wild fruits such as hackberry (celtis) fruit, grapes and figs is quite interesting. Would they have been processed and used as drinks or as solid foods? Maybe, the early attempts at pottery were made to improve storing conditions, but they were obviously abandoned after some time. Only the late phase of the long lasting Cayönü settlement shows evidence of plain coarse ceramics. 58 59
11 Jiahu, Yellow River Valley, China, 7000 – 6600 B.C. The Earliest Alcoholic Beverage in the World.   Chemical analyses of residues in clay pots, found during excavations of the Neolithic settlement of Jiahu in China, showed evidence that a fermented drink made of rice, honey and fruits (hawthorn or grapes) was produced as early as the 7th millennium B.C. 60 The analysis revealed tartaric acid, which is found in any grape product (raisins, vinegar, grape syrup) and, to a large extent, in hawthorn and other plants. 61 Therefore tartaric acid is no clear proof that there was wine or another fermented beverage. 62 63 However, rice (and other cereals, too) mixed with honey and one or two pieces of fruit, make quite a nourishing dish, which ferments after a while. This product is of mushy consistence and therefore rather edible than drinkable.
I have listed this early find of a "fermented beverage" from China because mixtures of different fruits with cereal and honey are also known from the Middle East.
12 Chatal Höyük, Central Anatolia, Turkey 7400- 6200- 5400 B.C.  Chatal Höyük is one of the largest and most fascinating Neolithic settlements in the Middle East. The main cereal species and pulses are cultivated. Collected wild plants and fruits are added to the food supply. 64 65 66
James Mellaart excavated Chatal Höyük in the 1960s. It was then the largest (2500-5000 inhabitants) and most stunning Neolithic settlement. Mellaart is also a well-known expert on Neolithic ceramics. Most of the early ceramics from various settlements are similarly coarse and shaped like dug up storage pits with hardened sides. Even the Neolithic "wine pot" (5800 B.C.) found in Georgia has the same shape and properties. Heating liquids was possible in these Neolithic containers, but fermented fruit wines could not be kept for any longer time.
13 Can Hassan, Central Anatolia, Turkey, from about 7200 – 6500 B.C. Wheat, emmer, einkorn, wild and cultivated, barley, hackberry, wild grape, plum, hawthorn, nuts etc. 67 Can Hassan is a good example of a large Neolithic settlement. Main resources of the regional flora are exploited, even though not all of them have been cultivated. Most fruit species, including grapes, were used to such an extent that they were classified as essential foodstuffs after the excavations. 68 69
14 Argissa, Achilleion and Sescio, Greece, 6400 – 5300 B.C. During the excavations of these three Neolithic settlements grape seeds of v.v.sylvestris were found. 70 An economic use of wild grapes was clearly indicated. It is rather unlikely that they were used to make wine because there were no tightly sealable pottery vessels and an adequately functioning social environment did not exist either.
15 Shulaveri-Shomutepe –culture, Georgia, Azerbaijan 5800-5400 B.C.  The following early Neolithic settlements are assigned to this culture: Aruchlo I., Dangreuli Gora, Shulaveris Gora, Gadachrili Gora, Imiris Gora, Chramis Didi Gora in today's Georgia, and Shomutepe, Babadervish, Tojretepe, Gargalartepesi, Geoytepe, Chalagantepe and Kültepe I. in today's Azerbaijan.  The Shulaveri settlements were discovered during excavations from 1965-1971. 71 72  According to Georgian experts, the carbonized grape seeds indicate the transition from wild to cultivated species. Besides, the grape seeds found at Shulaveris Gora and Dangreuli Gora were defined cultivated. 73  Six grape seeds were found on the ground at Dangreuli Gora and four in house number 1. Recent excavations, conducted by a Georgian – German team, have provided additional striking evidence of these Neolithic settlements. 74
16 Gadachrili Gora, Georgia: cal. 5780 B.C.  Excavation work at Gadachrili Gora was taken up again in 2006. Various circular buildings of unfired clay bricks (adobe, kerpitch) with a diameter of 1.5 to 2.5 metre were located, also fragments of typically Shulaveri- Shomutepe culture clay pots, and tools made of stone, bones or horn.
In 2007, cultivated plants (cereal, grapes and others) were identified. Numerous clay fragments were chemically analysed and the presence of tartaric acid was established. M.Jalabadze and his colleagues suggest that the source of tartaric acid in the clay fragments must have been wine or (sweet) grape juice.   Radiocarbon-dating of cereal grains resulted: cal. 5783 +- 42 B.C. Jalabadze and colleagues further explain, "Many pollen of cultivated grapevine were found, as well as weeds, which are typical for vineyards. Pollen of cultivated grapevine was found on the inside of a ceramic fragment, which proves that the vessel had contained wine. As the ceramic fragments have a rough pore structure, the (wine) liquid could soak the pores and settle on the inside of the vessel and in its pores." 75
17 Aruchlo, Georgia 5800 B.C. cal. The settlement consists of circular buildings of different size. Apart from a few open fire places there are no stable cooking facilities as they were common in Neolithic houses. It is therefore quite possible that Aruchlo was only seasonally settled, from about 5800 to 5400 B.C., before it became uninhabited for some time. New building constructions (kurgan), metal weapons, and symbolic objects of a new elite group only appeared in the early 4th millennium. 76 77   Domestic animals, different sorts of cultivated cereal and pulses were available at Aruchlo even when it was first settled. The settlers had probably brought their resources with them, from the south or east. The clay vessels of the Shulaveri-Shomutepe culture are mostly coarse and fired at low temperatures. Traces of fire are visible. Some pieces of pottery show decorations in the form of knobs ("Knubben"). With one of the larger pots the knobs form a cluster that looks like a bunch of wine grapes. Shulaveri pottery is related to east Anatolian "Knubben" ceramics. 78
Foto 2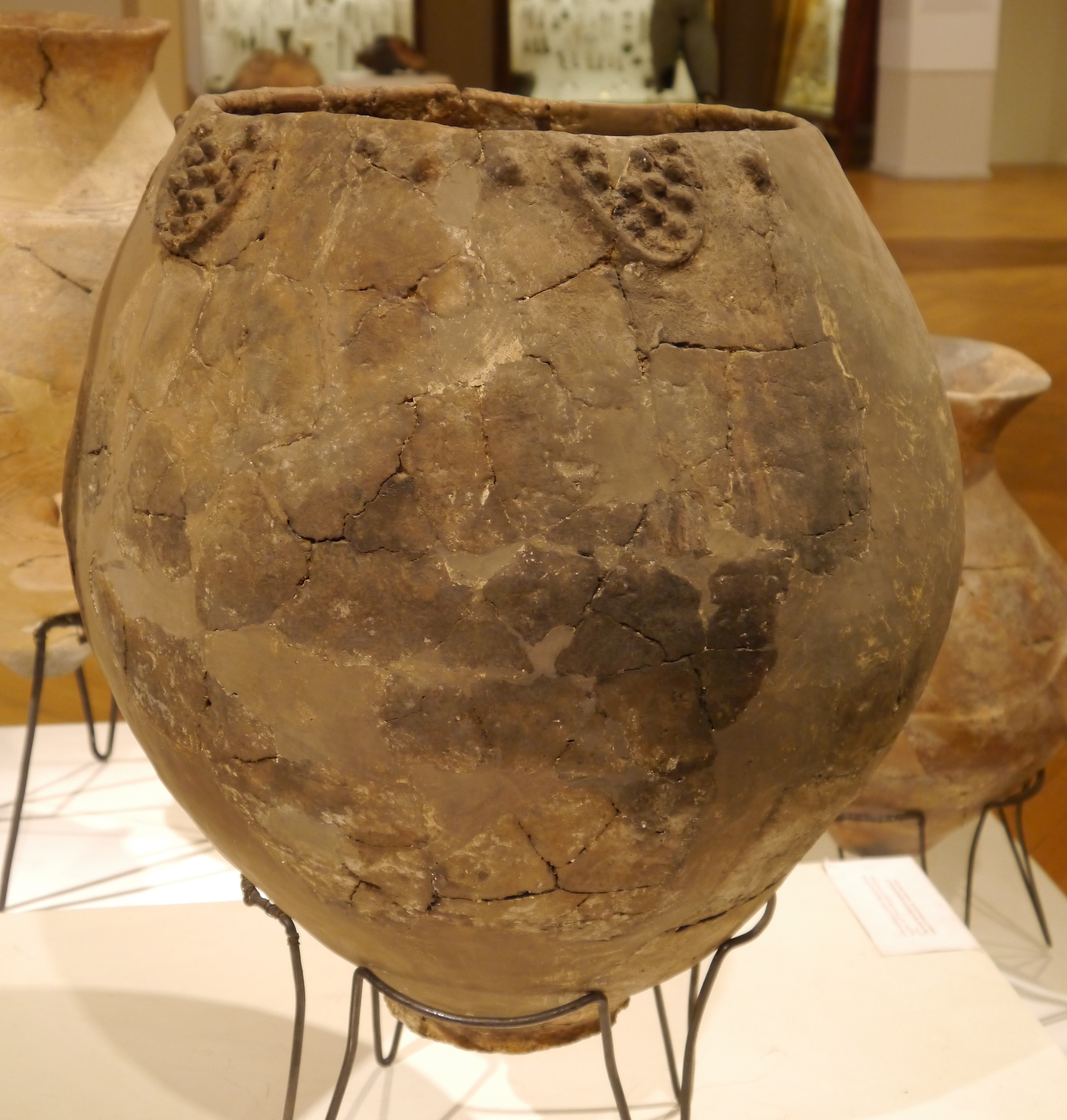 4 Clay vessel with grape decoration, Neolithic, ca. 5600B.C., National Museum Tbilisi, Georgia
18 Hajji Firus Tepe, northern Zagros Mountains, Iran, 5400 – 5000 B.C  Small "secondary Neolithic" settlement.  Knowledge of the Neolithic economic system was initially imported from the Fertile Crescent, and later regionally further developed. In 1968 Mary M.Voigt headed the excavations at Hajji Firuz, Iran. The finds were shared between Iran and the Penn Museum. 79
Twenty-five years later, Patrick E. McGovern evaluated two ceramic pots from Hadjji Firuz. He found evidence of the use of grapes. The following quotes are extracts from his publications on the subject: 80 81 82 83 The building was neither a cult centre nor a temple or a stately residence, but simply a Neolithic house. Residues were found in two of the six wine jars, four jars did not contain anything. It is a well-known fact that in prehistorical and early historical times only the elite kept wine in storage rooms. Why then should wine be kept in a kitchen? Several lids (clay stoppers?), approximately 10-15cm were also found in the room and assigned to the ceramic jars. Clay pots at this time, however, were leaking. They could be closed but certainly not sealed.
19 Ayios Epiktitos Vrysi, Cyprus, ca. 5350 B.C. (besiedelt until 3000 B.C.) Cereal, pulses, grapes, olives, fully developed crop cultivation during the initial phase. These have so far been the earliest indicators of the use of grapes on Cyprus. 84   There is no evidence of any specific use of grapes. Thus, it can be assumed that they were utilized as foodstuffs, either dried, preserved in the form of concentrated juice, or used otherwise.
20 Sesclo, Sitagroi, Dikli Tash, Dimitria. Greece, 6500 – 4300 – 2800 B.C. Grape seeds of wild Vitis vinifera sylvestris from the period between 6400 and 5300 B.C. were found at Sesclo. At Sitagroi, Dikli Tas and Dimitria evidence of grapes that had possibly been taken into domestication showed for the first time about 4300 B.C.  Between 4300 and 2800 B.C. grape seeds and tools that point to the processing of grapes (maybe wine making) were found in great numbers in the four settlements.   A clear distinction between wild and cultivated grapes could be drawn because of the large quantity of grape seeds. 85 At this time ceramics were already of excellent quality, so that liquids would have had quite a long shelf life when kept in ceramic receptacles.
21 Dikli Tash, Greece, Kavala, about 6500 – 4000 B.C.  Earliest find of pressed grapes (Vitis vinifera), 2460 seeds of grapes together with 300 grape skins, dated 4200 B.C. Remains of grape skin were still present on several seeds, which indicates that the grapes were pressed in order to get the juice. Close to the grape residues, clay pots were located, which were suited for grapes or juice. Why there were no grape residues in another three rooms has so far remained unclear. 86 Besides grape residues, figs were found. As the juice of wild grapes is frequently bitter-sour, figs might have been added to the grape juice to improve the taste. 87 Analyses of ceramics that had shown parts of grape residues were terminated in 2013. 88 89
22 Tepecik Höyük, eastern Turkey, 4500-3500 B.C.  Beginning of Chalkolithic period.  Vitis in domestication possible. 90 no indication of wine.
23 Korucutepe, eastern Turkey, 4500-3500 B.C.  Grape seeds of Vitis vinifera ssp.sylvestris. 91
24 Franchthi Cave-Argolid Greece, 4300 -2800 B.C.  Grapes had already been used in this renowned cave as early as in Paleolithic times. A lot of residues of grapes and of grape seeds were detected from subsequent periods, in particular from the Chalcolithic onwards. Many excavations in Greece have revealed huge quantities of grape residues from the same period of time, 4300 – 2800 (Arapi, Simini, Sesclo, Pefkakia, Dimitra and Dikli Tash). 92
25 Sitagroi III, Greece, 4300 – 2800 B.C. The distinction between wild and domesticated grapes has been much easier at Sitagroi because of the huge number of seeds from both species. 93 Some kind of economically minded production can certainly be assumed here. But why and for what purpose would wild grapes be used when those in domestication are available?
26 Areni I. Cave, south eastern Armenia, about 4100 B.C. (late Chalcolithic) When in 2010 excavations in the Areni Cave were completed, a Chalcolithic "winery" had been unearthed, which clearly indicates the significance of the region for early wine production. The site is situated 300km north of Hajji Firuz Tepe. 94 95 During the excavations a small tub-like area was found that would have served for pressing the grapes. There were also clay vats, set in the ground, numerous grape residues and drinking vessels (4223-3790 cal B.C.). Archaeological, chemical and biological examinations establish sufficient proof that cultivated grapes were processed and red wine produced. G. Areshian, co-director for the excavation, argued that at the time it had been impossible to preserve unfermented juice because any unfermented juice immediately turns sour. So, he concludes, the content of the vats must definitely have been wine. 96
27 Godin Tepe, western Zagros Mountains, Iran, 3500 – 3100 and 3100-2900 B.C. (in total settled from ca.5000-1600 B.C.) During the late Chalcolithic and the interim period preceding the Bronze Age all requirements for the production of wine had been met. Sumerian and Elamite city-states were founded and trading routes extended. Political and cultural stability allowed rapid economic development. During this period, Godin Tepe became one of the largest places in the region. It was inhabited from about 5000 to about 1600 B.C. All findings discussed below are from the early and late period V. The clay vessels from the early period V. have a capacity of about 70 litres, those from the late period V. can take 31-38 litres. They are all similarly shaped. The openings are 12cm in diameter, the necks are about 6cm long.  One of the jars was smoothed on the inside, with a thin layer of clay, presumably to seal the pot well. Another container from the late period V. had a small hole about 9cm from its bottom (perhaps for pouring the content more easily?) The jar was decorated with two U-shaped corded forms. The excavations of period V. revealed seven clay stoppers and also traces of the latter on the insides of several clay pots. Further clues are given by an almost complete funnel of about 50cm in diameter and a lid weighing about 1kg. It is assumed that the heavy lid was used to compress the grapes in the funnel. (Similar funnels were found at Kurban Höyük, Arslantepe, Turkey, and Tel Barak, Syria.)  Even though neither grape seeds nor any other grape residues were found, it is thought that a 6-8cm high, 50 by 50cm large basin was used to press the grapes. During late phase V., the rooms served quite different purposes. Only two clay vessels were uncovered. V.R.Bader concludes that these archaeological finds are convincing evidence that there was wine at Godin Tepe. His statement was reaffirmed by chemical examinations of residues from several clay pots. 97 However, all those finds as well as the results of chemical tests can just as well be taken as proof of the making of concentrated grape juice.
28 Kurban Höyük, south eastern Turkey, late 4th to early 2nd millennium B.C. Bronze Age.  From the beginning of the early Bronze Age, wine production was widespread, which has been documented by archaeological finds and in writing. Over a period of about 1000 years, finds of grape seeds and residues from pressing were increasing at Kurban Höyük to such an extent that a proper wine industry may be assumed. It is undecided, though, whether "just" wine or other grape products were produced as well. 98 99
29 Abydos, Egypt, 3150 B.C., tomb of Scorpin I. of the 0 Dynasty. There were no wild grapes in Egypt. Cultivated grapes were only introduced later and subsequently grown on a large scale. Like Mesopotamia, Egypt was a country of beer drinkers.  In the tomb of Scorpion I. 700 amphorae were found, containing about 4500 litres of resined wine. The amphorae must have been transported over hundreds of kilometres from the Levant to the Nile. The wine was a burial gift, which at the time was reserved for emperors, because no one else would have been able to finance it. Tests of the wine residues indicated that apart from resin several herbs had been added to the wine, most probably savory, wormwood, coriander, mint, sage, and thyme. 100 101 102
Debate on the topic of Neolithic wine
The following part of this article is centered around large clay vessels. Although such receptacles have always been used for many different purposes, we generally see them mainly in the context of wine. Whenever wine is the topic, any debate becomes quite agitated because wine makers, wine lovers and nationalists like to argue about the "birthplace" of wine. With each and every excavation, from southern Europe to China, there rises hope for new information.
Grape residues discovered at archaeological excavation sites are mostly interpreted as being evidence of wine. Western scientists nearly always mean wine when they speak of grapes. One main reason for this may be culture and language: The grape garden in publications is called vineyard. Grapes are always wine grapes. Tartaric acid is taken for a wine indicator, although it is not only present in wine or in grapes. These misunderstandings probably result from the fact that Western Europe and America have neither a traditional history of the grape nor of wine. Grapes were never cultivated and wine was not developed. The finished products have always been available, together with their relevant technical terms. Wine scientists are rather seldom aware that in the beginning quite different grape- and other fruit-products prevailed. In the Middle East, however, grapes are neither linguistically nor culturally reduced to their utilization as wine grapes for wine making. In this part of the world, grapes are still processed and consumed in many different ways.
Arguments against the existence of wine in the Neolithic
– Wine was not an essential foodstuff for Neolithic subsistence farmers.
One of the main objectives is how to produce nourishing foods. Storage, i.e. the preservation of food stuffs for a longer period, is another important aspect. With small communities of simple subsistence farmers there is no scope for sophisticated experimenting with domestication. As wine is a product of little nutritional value and must be consumed within a short time, before it turns bad, the Neolithic subsistence farmers would not have put up with long waiting times in order to acquire nourishing foods.
Wild figs, wild grapes, pistachio nuts, almonds and hackberry fruit (Celtis) were used fresh, dried, or perhaps as part of beverages, long before the Neolithic period. Beer definitely existed in the Neolithic.   It was a cult beverage and could be freshly brewed and drunk at any time.
– Suitable containers for wine did not exist in the Neolithic period
Most early Neolithic ceramic pots were rather coarse and could not be closed. Larger containers first resembled the pits in the ground that were used to store food. The rim was thin, there was no opening or wide lip, which is essential for secure sealing with a clay stopper or lid. L.C.Thissen writes about the development of ceramics, "Ceramics did not exist before ca. 7000 B.C. although the firing technique had been developed earlier. After some experimenting, fine ceramics were found at Chatal Höyük. They were still tempered with chaff. At about 6800 B.C. change to mineral tempering was completed. From then on pots with thinner walls could be made. Pots from the period about 6600 B.C. had small perforated handles and a widened rim. They were used for cooking. From about 6300 B.C. pots became decorated with string- or "Knubben"(knob – borders. A piece of early relief ceramics (6000-5700 B.C.) was found at Kösk Höyük. It shows clay vessels of medium height (more than 50cm)." 103 This kind of vessel could be used to ferment must, but must quickly turns into mash and oxidizes into a vinegar-like liquid when exposed to air. In order to be leakproof, clay pots have to be fired at temperatures of at least 1000° C, unless they are sealed on the inside with resin or other agents. Sealings of this kind, however, are not known from Neolithic times.
Foto 3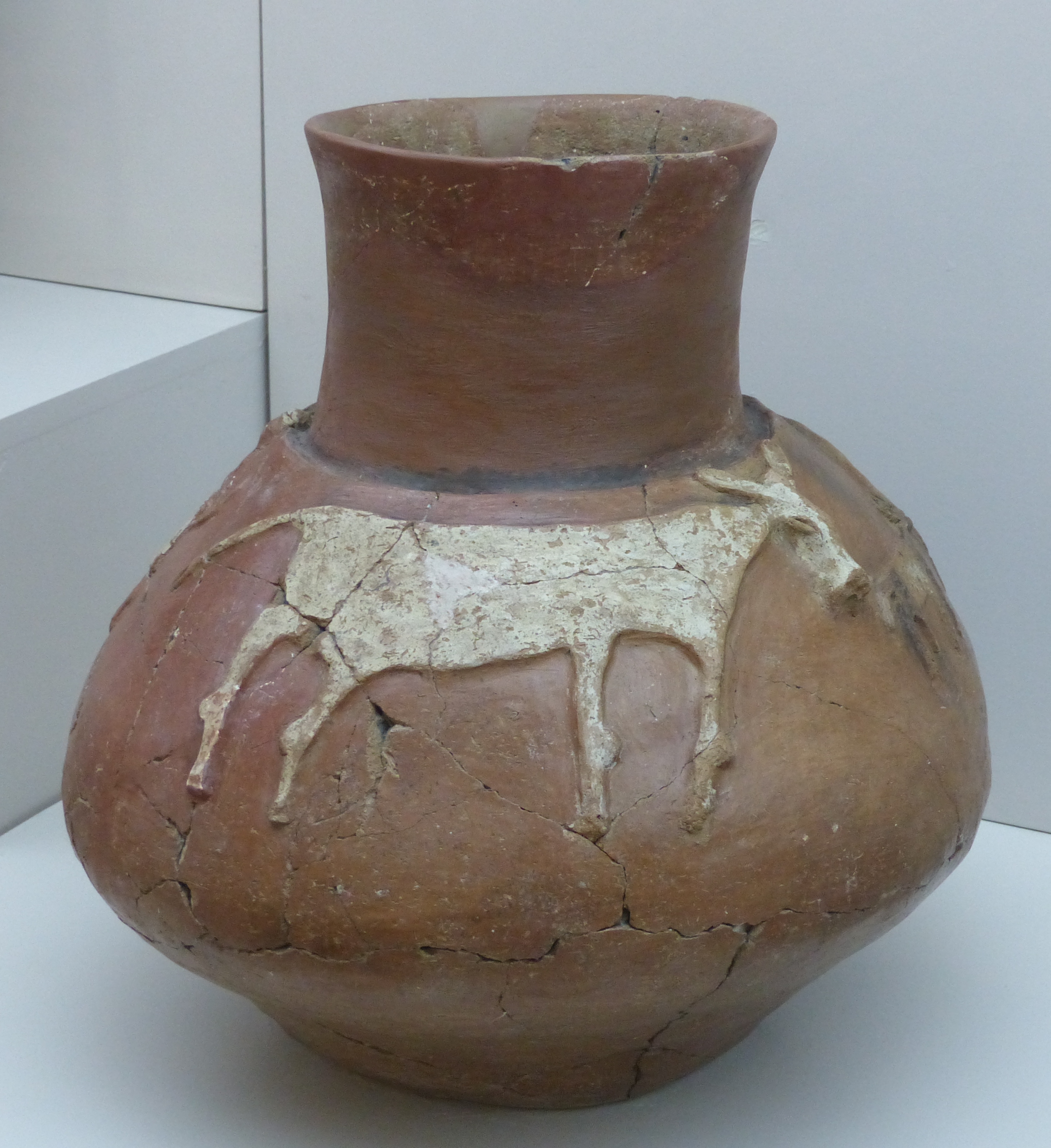 5 Clay vessel from a kitchen at Kösk Höyük, ca. 5000 B.C., similar to the "wine jars" from Hajji Firuz, Iran, Archaeological Museum Niğde, Turkey
Foto 4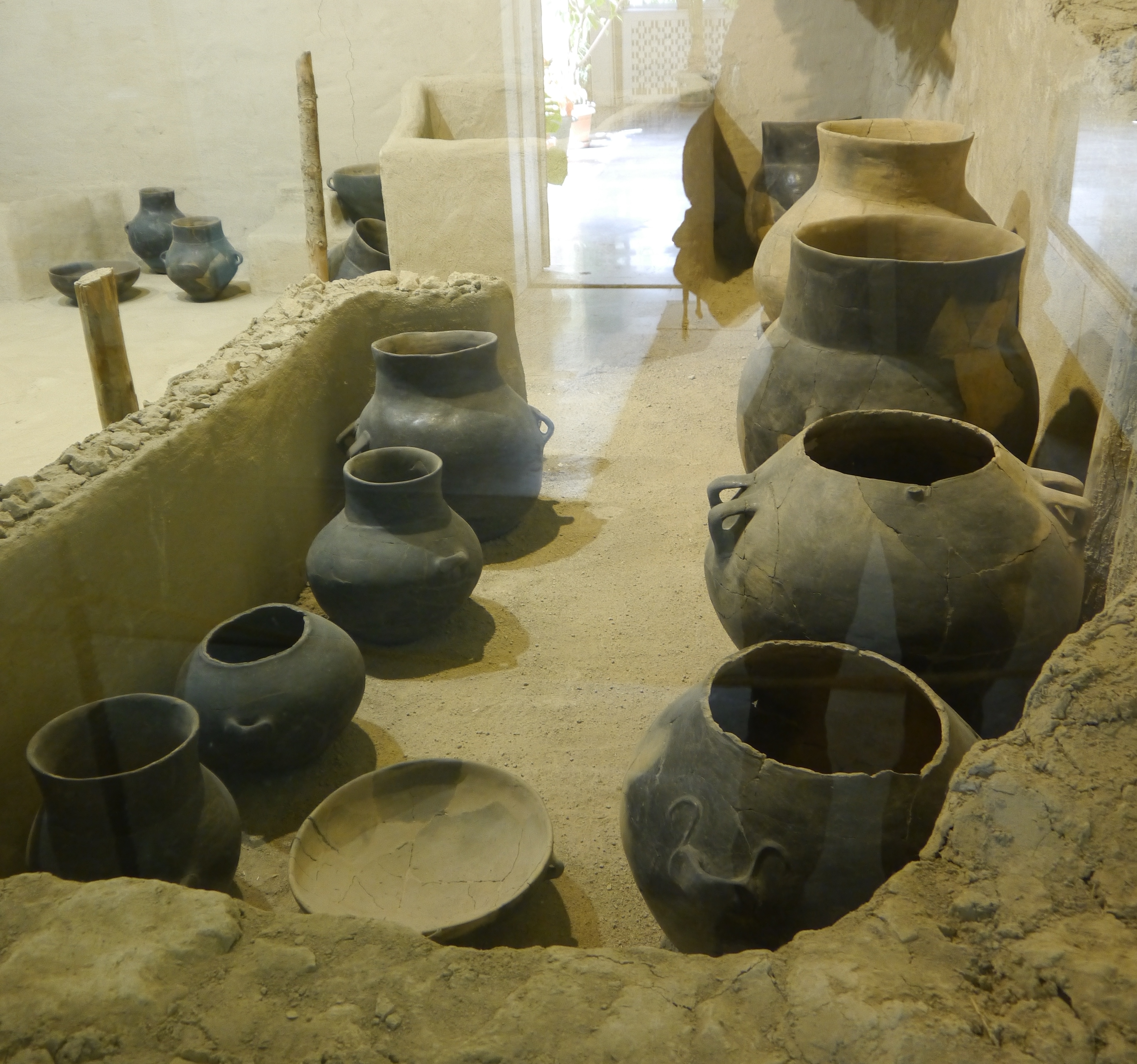 6 Reconstruction of a kitchen, Kösk Höyük, ca. 5000 B.C., Archaeological Museum Niğde, Turkey
– Wine production and the use of wine in prehistoric times relied on an elite
Peasant society had to have outgrown a subsistence economy in order to produce goods, which were more than vital necessities. Unlike common agricultural products, the crop yield of cultivated grapes is low, harvest time is rather short, and the grapes must be processed or stored with great care. 104 Moreover, consumers are needed to purchase the "expensive creation", because time and effort, put into the making of wine, should equal the profit gained from simple agricultural products. These requirements were not yet met in the Neolithic. All written and visual evidence of the utilization of wine, from the second half of the 4th millennium B.C. to about 1000 B.C. refer to its use only by either an elite, priestess, priest, king, queen or the highest representatives of the latter. At this time, wine was exclusively used for ritual acts.
Arguments for the existence of wine in the Neolithic
Tartaric acid
Patrick E. McGovern is head of the Laboratory of Biomolecular Archaeology at the Penn Museum (The University of Pennsylvanian Museum of Archaeology and Anthropology, Philadelphia). Many chemical tests were carried out in his laboratory. In his earlier publications he states that evidence of tartaric acid may point to grape juice, grape syrup, raisins and wine, but also to products from other fruits 105 In later publications about wine in the Neolithic period, he is placing the main emphasis on wine and viniculture. He does not reflect on the setting or any alternative options, though. To him, tartaric acid is a "fingerprint" and a "biomarker" of wine. An important starting point for McGovern's conclusions were the results of the excavations in Georgia. Georgian scientists have described several indications of the existence of wine in the Georgian findings. 106 107 108
Grape seeds
All grape seeds that have so far (up to 2010) been found with archaeological excavations in Georgia, are listed and evaluated in an article on the culture of wine grapes in Georgia, based on paleobotanical data. There are at present about ten pieces. They are defined as the cultivated type. 109
According to other scientists, however, it is impossible to definitely assign the tiny number of seeds found in the Neolithic settlements around Shulaveri to just one purpose: see McGovern, P.E. 1997 110 and Zohary, D. 2003 111, Tengberg, M. 2012 112 and Renfrew, J.M. 2003 113 and many others.
Naomi Miller clearly expresses that a distinction between the wild and the cultivated form of grape seeds from archaeological excavations of the Prehistory is not possible. Particularly big specimens are readily declared to be seeds of domesticated grapes, yet small, not fully developed grape pips may similarly indicate domestication. 114
Grape pollen
In another paper, Georgian scientists are justifying the existence of wine in the Neolithic period by means of pollen and chemical analyses. Pollen of cultivated grapes found at Neolithic settlements in Georgia is compared with pollen from modern vineyards in eastern Georgia. The different pollen specimens are then defined as direct or indirect evidence of grape cultivation and the existence of wine during Neolithic times. 115 A definite distinction between the wild form of grape pollen and the domesticated one, however, is not possible. 116
The assignment of grape pollen from the Neolithic is just as difficult as the definition of grape seed from the times. It is misleading to compare the typical pollen from plants in modern eastern Georgian wine gardens 117 with the pollen of "cultivated" grapes found in the Neolithic honeypot. In early illustrations cultivated grapes are mainly depicted high hanging or as liane-like climbers on trees.
In today's East Georgia where the pollen used for comparison comes from, the modern practice of grape monoculture is common. In West Georgia, however, there still exist cultivated vines that traditionally grow on trees. There is no sense in comparing pollen from these traditional west Georgian fruit gardens with the one from East Georgia, though. The behaviour of bees is rather opportunistic than systematic. They collect honey and pollen from any flowering plants that provide the highest yield at the time. Besides, bees do not gather comprehensively and are therefore not able to compile a representative sample of pollen from a specific biotope.
The Neolithic clay pot with grape ornaments
The Georgian excavations produced pottery shards ornamented with "Knubbendekor ("knob decoration"). They were from pots with individual and also lined up "Knubben". 118 The so-called grape décor on a clay vessel is beautiful, apart from the fact that the pot showed evidence of tartaric acid. This early type of Neolithic pottery may be suited for cooking or fermenting of must, but it would have been impossible to keep wine in it for any length of time. Such pots are porous and cannot be sealed firmly. Several comparable grape ornaments on ceramic shards have in the meantime been found in south-eastern Anatolia by McGovern, 119 ,which just proves that there is some connection between pottery from East Anatolia and the one from Neolithic southern Caucasus.
A Neolithic culture of wine
In his book "Uncorking the Past" (2009); McGovern states that according to his own research, i.e. a combination of archaeological and chemical studies, the earliest culture of wine must have developed in the mountainous regions of the eastern Caucasus and the northern Zagros mountains, at least around the year 7000 B.C. At that time, viticulture and viniculture would have played a major role in Neolithic economy, religion and society. 120
McGovern's statement certainly refers to the excavations from the Shulaveri-Shomu- Tepe –culture in today's northern Zagros in Iran, and to Nevali Cori and Körtig Tepe in the Southeast.   It was only in 2003 that McGovern assigned the origin of wine and viticulture to Georgia. 121   In 2004, he described the Southeast of Turkey as a potential "homeland". 122 In the meantime, grape residues from the period 8600-8500 B.C. had been discovered at Nevali Cori, as well as tartaric acid in a stone vessel from pre-ceramic Körtek Tepe (9600 B.C.). 123 Even though these finds are 2500 to 3000 years older, some scientists immediately and solely think of wine. Thus, a scientific publication with the title "The Archaeological and Chemical Hunt for the origins of Viticulture" does not surprise. 124
If it is not wine, what is it then?
As argued before, tartaric acid can be produced not only with wine but also with a number of other products, e.g. raisins, grape vinegar, concentrated grape juice and other fruits and herbs.
Raisins
Storable foodstuffs were of vital importance for the Neolithic people. Many natural products could only be gathered or planted and harvested within a short season. If they were not eaten fresh, they had to be preserved. The easiest preservation method is by drying the natural product. This is also the original technique for preserving food. Grapes turn to raisins and can be kept for many years if they are stored in a dry and secure place. Stored in clay pots raisins will leave only very little tartaric acid. Instead of ceramic vessels, (wicker) baskets may have been used for storage in order to avoid mould.
Grape vinegar
Grape vinegar forms when grape juice ferments. Most probably the fruit pulp and grape skins were also processed so that the result was a sour, vinegar-like mush. The thickened liquid would keep for a short time in a clay pot. This kind of "wine" would not have tasted any different from fermented wild grape juice even if diluted. The vinegar mush certainly left traces of tartaric acid in the pores of any coarse pottery pot.
Very much later, armies of soldiers used to drink diluted vinegar when they were thirsty. Besides, vinegar is excellent for the preservation of vegetables and fruits. There are abundant supplies of vegetables and fruits preserved with salt or vinegar at Middle Eastern farmers' markets even nowadays.
Grape syrup (pekmez) – a worthwhile alternative
In the Neolithic kitchen the fire will have been burning all day long, if only with a small flame. Neolithic fireplaces were mostly paved with rounded boulders. A fire was burning in the centre so that several pots could be placed around and their content well heated on the hot stones. As the stones around the fire kept the heat for a long time, it was quite easy to get some fruit juice thickened while other cooking activities were in progress. The syrup is called bakmasi in Georgia and pekmez in Turkey. No extra firewood was needed to thicken the juice on the hot stones. Most yeasts die off at temperatures of 40°C and above. Therefore the juice does not ferment. Pekmez keeps even in clay vessels of poor quality because it seals up coarse leaking pots. These can be covered with a lid but there is no need for extra sealing.
Pekmez on its own or mixed with flour, pulses and other foods is exceptionally sweet. Therefore it may well have been the number one starter, main course and dessert on the Neolithic menu, throughout the whole year.
Domestication of grapes cannot be seen as conclusive evidence for the existence of wine. In my view, grapes in the Neolithic were originally domesticated to produce more and better pekmez and so secure the quality of foodstuff. The making of wine, however, was certainly not a primary objective. 125
For the production of wine, special agricultural land had to be provided. There also had to be customers who were able to afford the purchase of wine. This "elite", however, did not exist before Early History. Grape syrup is frequently mentioned in ancient documents, but the product has often been wrongly translated or misinterpreted because most authors are not familiar with its history. It is a fact that grape syrup leaves tartaric acid in any kind of clay vessel.
Foto 5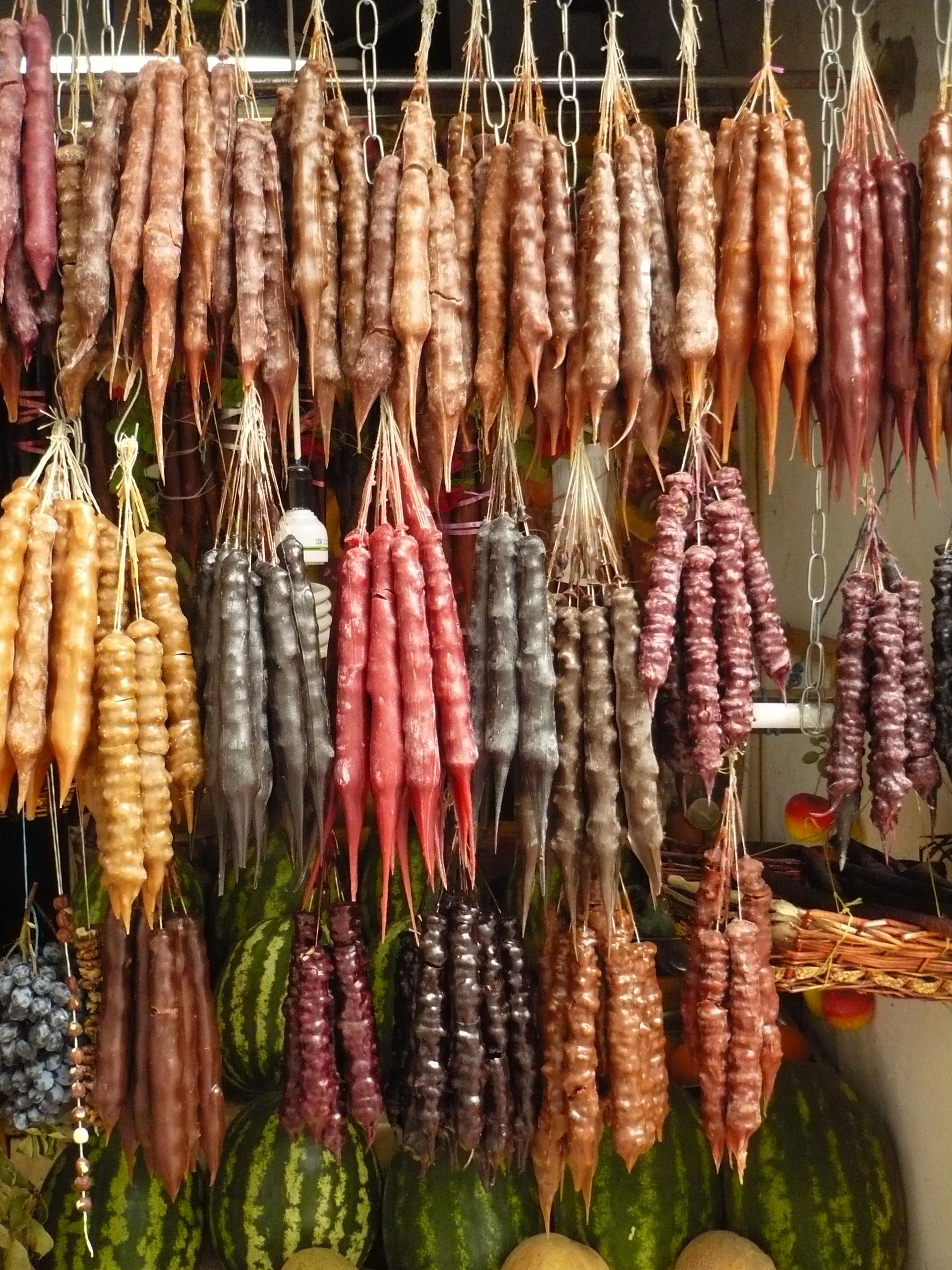 7 Products of thickened fruit juice ( Georgian: Bardagi/ Turkish: Pekmez)
Once again Hajji Firuz Tepe
Six clay vessels with a capacity of about nine litres were discovered in a kitchen during the excavations of Hajji Firuz Tepe. Two pots showed evidence of grape residues. The vessels had been suited for making but not for keeping wine. They could not have been hermetically sealed either. For the people who lived in 4500 B.C., safeguarding additional and storable foods was still a primary objective. It is therefore much more likely that the product from the kitchen of a small Neolithic settlement was not wine but pekmez, i.e. thickened grape juice. Pekmez seals coarse-pored clay pots, keeps over a long period of time and does not need to be stored in closed-up containers. Moreover, pekmez is rather important with subsistence economy. The thickened fruit juice may have been mixed with other products such as flour, different other fruits, or the resin of the terebinth tree in order to improve its taste. Those mixtures could explain the different residue colourings.
One of the two pots showed a reddish residue, the other a yellow one. 126 There was tartar in both pots and also tartaric acid in one of them 127 128.
Grapes of wild vines are red. Therefore it must be assumed that white grapes would have already been cultivated and undergone an extensive selection process. In view of the generally available results of archaeological research, cultivating and selecting activities were rather unlikely in the period of about 5400 B.C.
Terebinth
The resin of the terebinth tree, a pistachio species, is particularly suited for improving taste. In his "Natural History", Pliny the Elder already wrote about the use of terebinth and other resins in detail. 129
Two species of the terebinth tree are common in the Mediterranean. In the Middle East, mainly at the coast of the eastern Mediterranean, the leaves are used in cooking. They flavor pulses and other vegetables. Village bread is baked with terebinth blossoms and the fruit is used dried and ground. The grounds are used to make "coffee" (Turkish: citlik kahve'si). The resin is a concentrated aromatic compound.
In his article on the earliest find of an alcoholic drink in China, P.McGovern mentions some more "wine" findings from the period of the Shang and Zhou dynasties (ca. 1200 B.C.). He describes small bronze vessels containing "wine" made from rice and millet and spiced with herbs, blossoms and resins. 130
A considerable number of containers (ca. 1000kg) from a Bronze Age ship loaded with amphorae, were filled with terebinth resin. The resin was intended to flavor food and drink in Egypt. It was not meant for the preservation of wine, as might have been assumed at first. The ship sank off the coast of today's Turkey. 131
Terebinth resin was also applied in medicine. The resin is said to have protective properties against certain bacteria. Our tests, however, have proved that terebinth does not stop wine from becoming vinegar unless the resin is applied to seal amphorae so that the contents can be kept for a longer time. If it is used as a sealing agent, the resin is no longer aromatic. The famous Greek Retsina was not supplemented with resin to give it a longer shelf-life but for its sophisticated taste, which is loved by the Greeks.
The dissemination of cultivated grapes
The archaeobotanist Margareta Tengberg (University Paris 1) and her students conducted several excavations in the Middle East. Her latest publication "Fruit Growing" deals with the first indications of the cultivation of grapes, olives, figs and dates in the Chalcolithic period. 132 The increasing number of grape seeds from this time at excavation sites allows a definite distinction between the seeds of wild and those of cultivated grapes. Findings of various systems, tools and containers also indicate the widespread economic use of grapes and other cultivated fruits. In many cases, however, the question how the fruits were used remains unanswered. Obviously, other than cultivated grapes the wild species were still being used in great numbers. Detailed information about the time from 4500 B.C. onwards is evident in several Greek excavations. N.F.Miller explains, "There is convincing evidence of the use of domesticated wine grapes during the fourth millennium. Dissemination of cultivated grapes in areas outside their natural places of origin did not happen before the third millennium B.C." 133
The era of Küps, Karas, Kvevris, Dolia, Pithoi, Tinajas, Talhas de Barro andAmphorae –  recepticles for the production, storage and transport of foods, oil, wine and other specific merchandise
According to G.Areshian, co-director at the excavation site of the Areni I Cave, the very first complete wine manufacturing facilities were found at this site (late Chalcolithic). He argued that at the relevant time it had not been possible to preserve juice without fermentation because any fermented juice immediately becomes sour. Thus he concluded that the content of the finds must have been wine. Although in Armenia he is surrounded by products made from or with thickened grape juice, he seems to have forgotten that grape juice is easily preserved when heated up.
H.Barnard successfully applied a new technique with tests of wine pressing residues from Areni. He was the first archaeologist to discuss earlier methods of chemical tests and their interpretations. According to Barnard the conclusions drawn from those interpretations cannot be seen as reliable indication of the existence of wine. 134 So far, certain chemical compounds in residues on pottery and other containers had been taken as indicators of wine. Two compounds, i.e. tartaric acid and terebinth were deliberately added to wine for preservation and improvement of taste. 135 The presence of tartaric acid, however, is by no means convincing evidence that there was wine before. Tartaric acid exists in many fruits and vegetables. The concentration of tartaric acid in hawthorn, which grows everywhere in eastern Anatolia and in the Caucasus, is much greater than it is in grapes. Barnard further argues that tartaric acid easily dissolves in water and that it can quickly enter and escape from buried pots. Therefore, he explains, the mere presence of tartaric acid does not prove whether or not there was wine. Therefore, he argues, tartaric acid is simply a definite indicator of any product of food plants that it exists in.
Tartaric acid with grapes does not necessarily mean that there has been wine. It may well be evidence of grape juice, vinegar, raisins, or concentrated grape syrup, e.g. the popular "defrutum" in the classical era or "pekmez" in modern times. Resin, which has been found with excavations, can imply different kinds of utilization: it is used to seal up unglazed vessels; it is also applied to protect wine while it is being processed or just to improve the taste. 136 In the beginning, wine was probably neither kept for any length of time, nor was it transported over great distances. So all in all, Barnard concludes that traces of resin in Neolithic finds are not evidence per se of early existence of wine treated with resin.
Barnard furthermore describes malvidin as an efficient chemical indicator of red wine. Red grapes and red wine get their colouring from malvidin. The pomegranate and some other plants contain malvidin, e.g. blueberry (vaccinium myrtillis), red clover (trifolium pretense), mallow (malva sylvestris).
Barnard summarises that malvidin on two ceramic shards from the Areni Cave (dated late Chalcolithic period, about 4000 B.C.) are not necessarily proof of red wine but may be residues of red wine grapes, of pomegranate or of both fruits. Fermentation can only be suspected whereas other products like "defrutum" should not be ignored. Barnard states that the result of his chemical examinations in the context of archaeological findings counts as an additional argument in favour but also against the presence of wine in certain clay vessels. 137
As the processing method used in the making of wine is the same as the one used in the making of pekmez, it is quite possible that the Areni I facilities could have been employed for both wine and pekmez making.
Wine for the elite
All written and visual testimonies of the use of wine in early history point to its consumption solely by an elite, e.g. priestesses and priests, queens and kings, and their highest representatives. Archaeological finds from the late Chalcolithic period and the Bronze Age confirm that this was the case from the second half of the 4th millennium to ca. 1000 B.C. Small vessels and other ceramics found in villages explicitly indicated wine. The first known larger wine barrels come from the depots of temples, from residences and from Pharaonic or chieftains' tombs. Other than ritual vessels there were different size clay jars, which had been used to store cereal, oil, fruit syrup, wine, and other liquids, but also dried fruit, meat etc.
Early evidence of wine in clay vessels was given at Abydos in Egypt. When the tomb of King Scorpio I. was unearthed, about 700 amphorae with a capacity of about 4500 litres of wine came to light. The findings were dated to 3150 B.C., but vines were definitely not grown in Egypt at the time. The findings also contained the earliest known Egyptian hieroglyphs describing contents and origin of the products in the tomb. The Egyptian word for wine was "irp". Residues in several amphorae clearly indicated that the wine had been seasoned with resin, wild thyme (satureja), lemon balm (melissa officinalis), senna (cassia), germander (teucrium), mint (mentha), sage (salvia) or thyme (thymus). The amphorae and the wine in them had come from the southern Levant. 138
Lists of products transported in amphorae are known from the time of Pharao Tutmosis, who lived much later. Products such as olive oil, honey, wine, milk, meat, poultry, fish, cheese, cereal, beans, cabbage, different fruits, herbs, nuts, sugar (syrup?) and resin were listed (see Museum of Under Water Archaeology, Bodrum, Turkey)
The so far oldest shipwreck in the Mediterranean was discovered near Uluburun on the southern coast of Anatolia. The find is particularly interesting because the largely undamaged 20 ton merchant ship from the 14th century B.C. contained goods from the entire Mediterranean region and from several parts of Central Europe. There was ivory, gold, African hardwood. There were faiences, ten tons of copper from Cyprus and lots of other precious items. More than one thousand kilograms of terebinth resin for making perfume were packaged in Canaanite amphorae and glass beads, acorns, almonds, figs, olives, and pomegranates were packed in amphorae of different origin. Some of the 150 amphorae and dolia with a capacity of up to 400 litres were empty. They may have been meant to be filled with Anatolian wine. 139
Küps, (clay vessels from Anatolia) are an excellent example of clay containers. The ones illustrated below can still be seen in the former depot of the main temple at Hattusha lower town.
Foto 6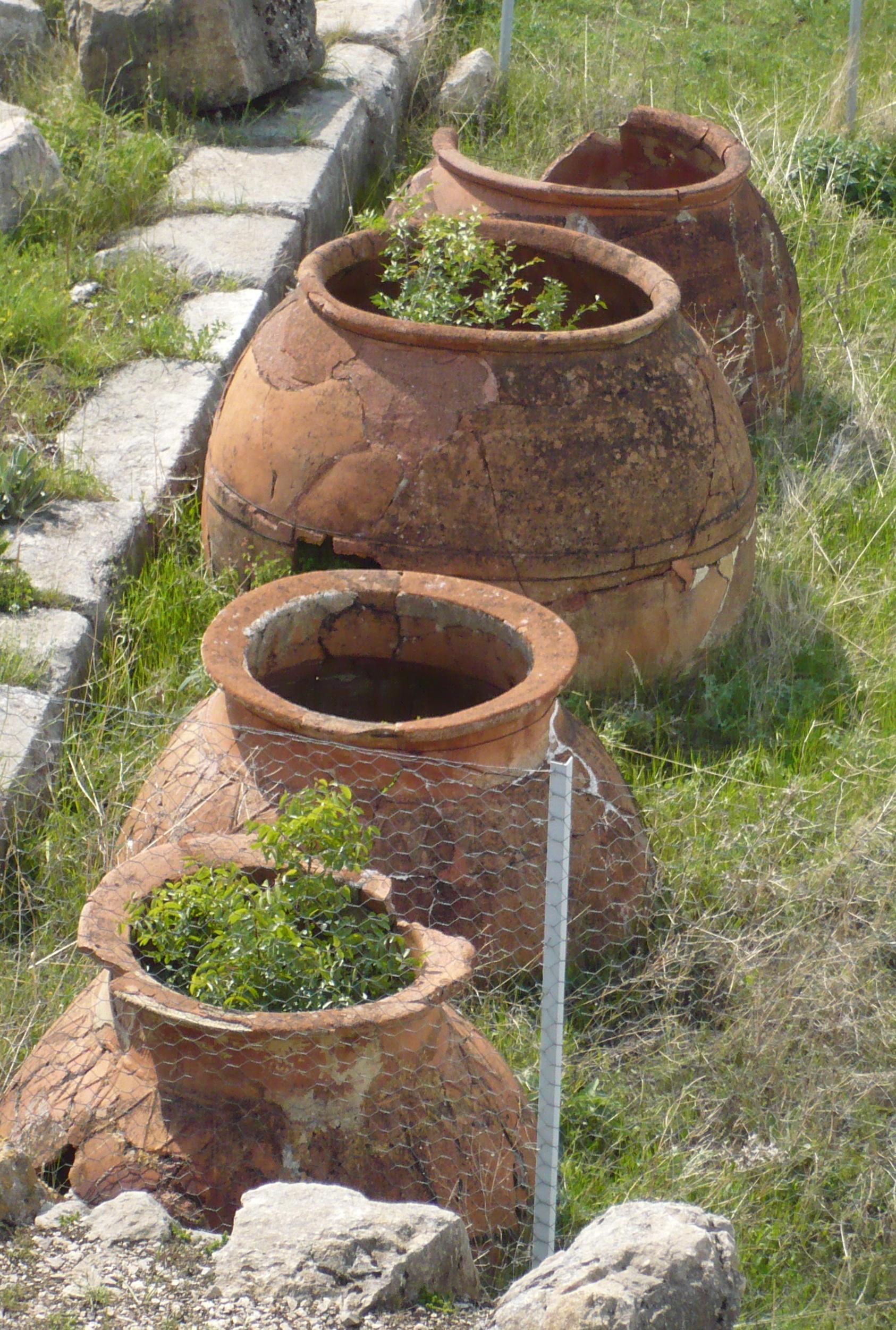 8 Four large küps in the former depot of the main temple at Hattusha lower town, ca.1350 B.C. Turkey
The two küps (capacity of about 400 litres) in the foreground have a flattened broad rim (lip) round the opening. They can be hermetically sealed and might have contained wine. The rims of the küps behind are thin and rounded. They could have been used for flour or cereal and would have been covered with some kind of lid. The küps originate from the time about 1350 B.C. In Turkey, "küp" means a large clay vessel, although "küp" is not a Turkish word. It is probably of Indo-European origin, related to the German "Kübel" and the English "cup".
With the further development of both cuneiform writing in Mesopotamia and hieroglyphics in Egypt and Anatolia, extensive knowledge was gained about different size containers, typical jars for wine, and cultic drinking vessels. In the Bronze Age, trade was growing and cultic rituals in order to strengthen worldly power became more and more complex. Clay receptacles for all kinds of goods were consequently popular almost everywhere.
Foto 7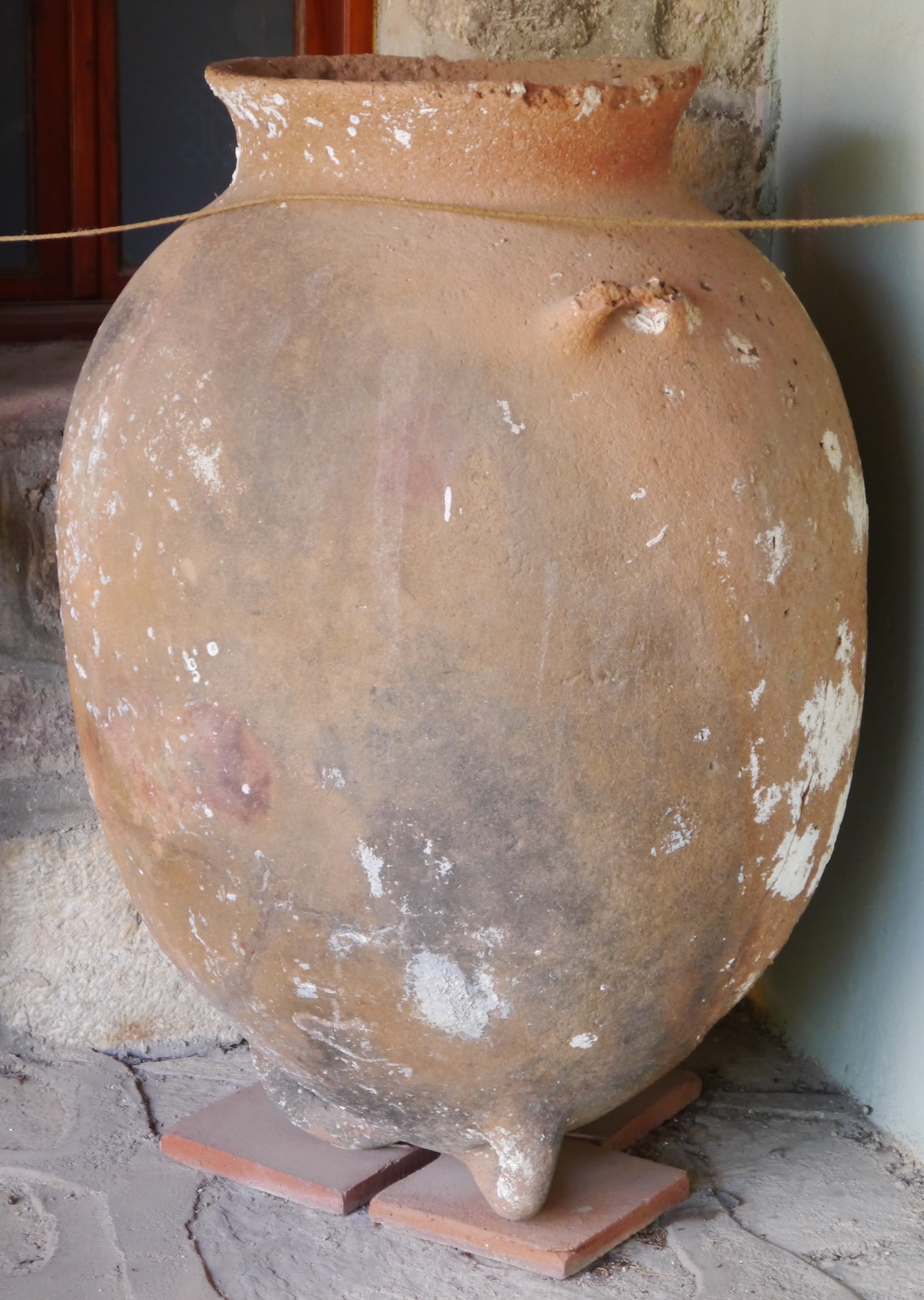 9  Large amphora (ca. 300 L.) from the shipwreck at Uluburun (ca. 1400 B.C.), Under Water Museum, Bodrum Turkey
Foto 8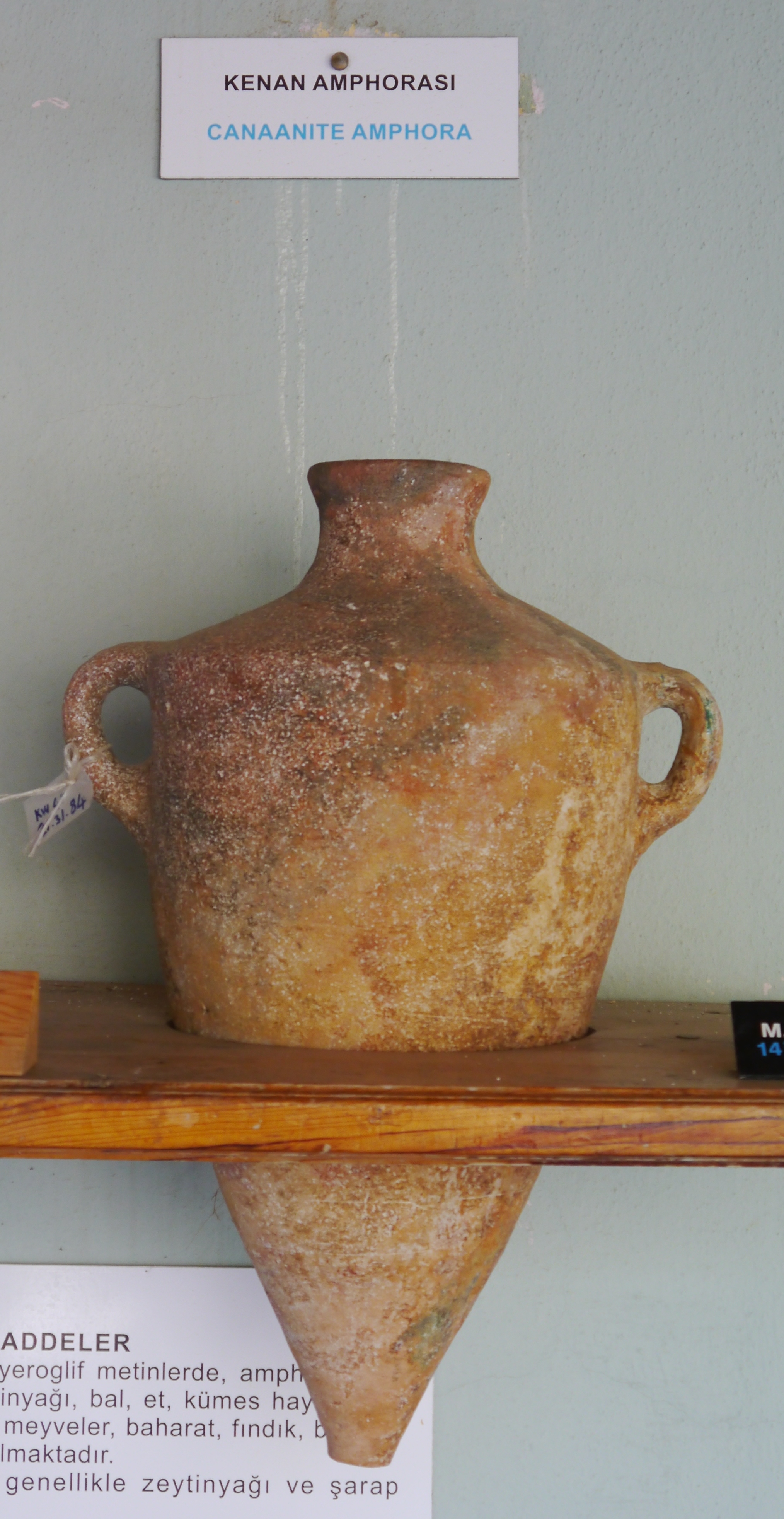 10 Amphora from Canaan, shipwreck at Uluburun (ca. 1400 B.C.), Under Water Museum, Bodrum Turkey
Foto 9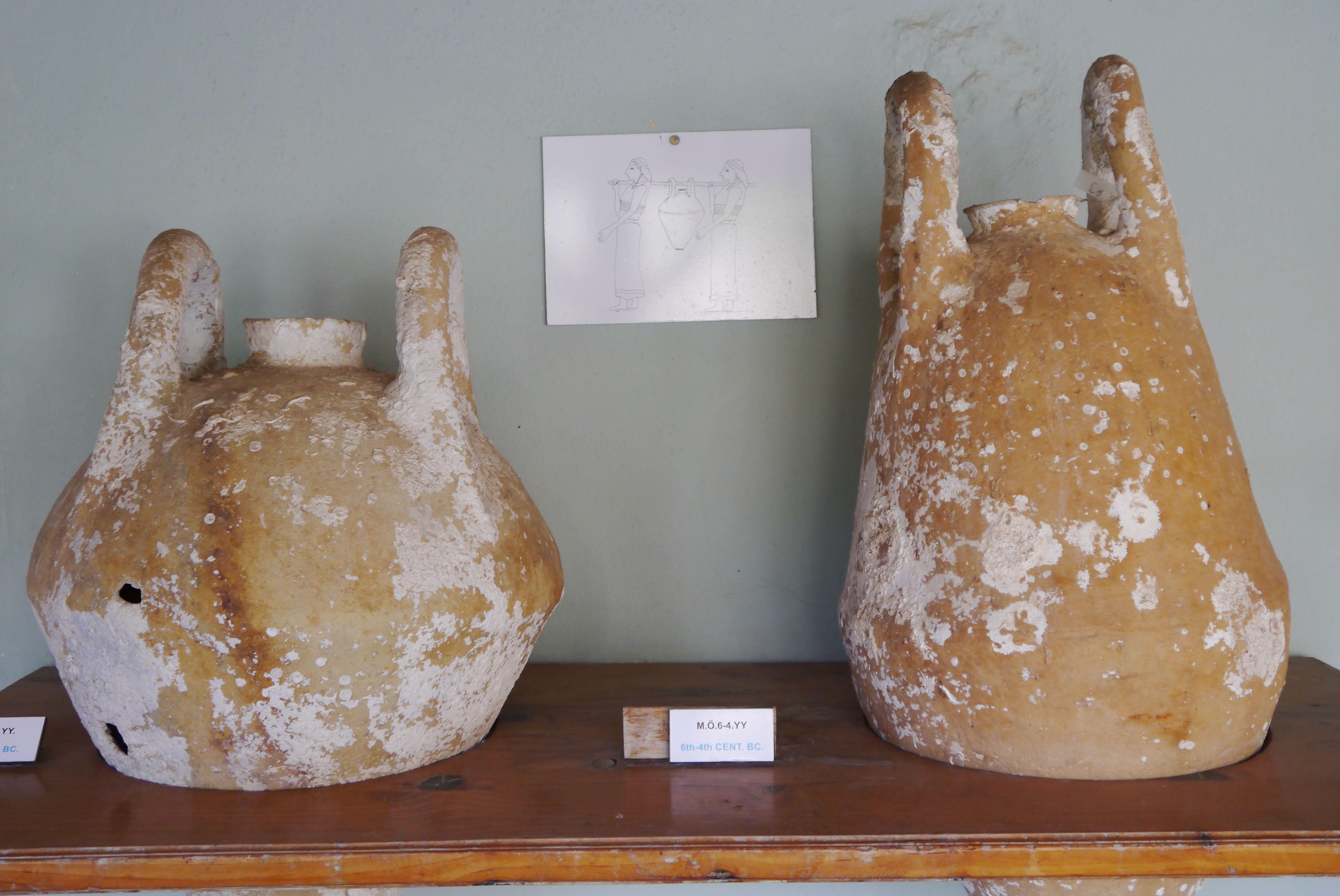 11 Amphorae from Cyprus, shipwreck at Uluburun (ca. 1400 B.C.), Under Water Museum, Bodrum Turkey
Foto 10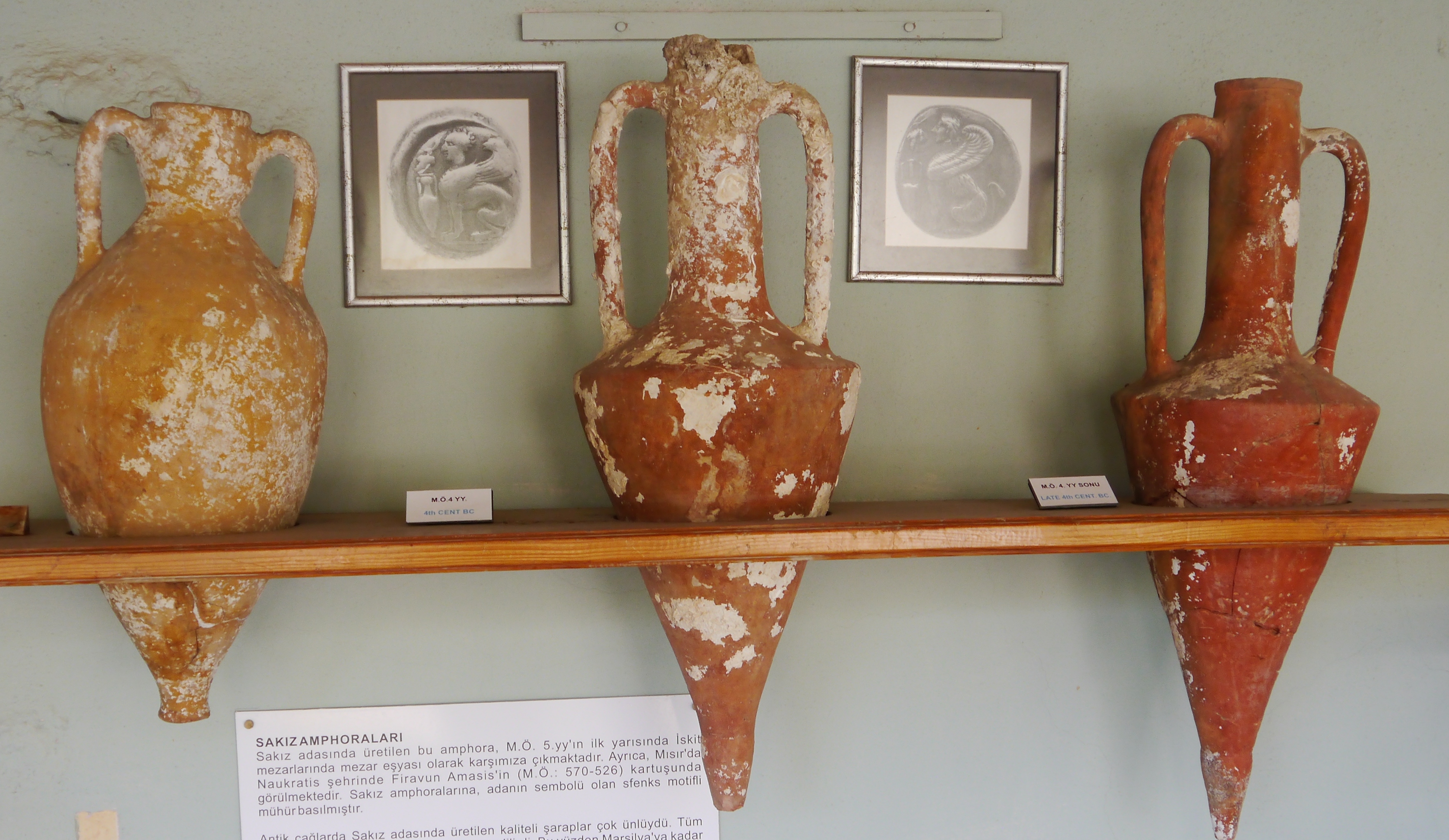 12 Amphorae from Chios, shipwreck at Uluburun (ca. 1400 B.C.), Under Water Museum, Bodrum Turkey
Hittite clay vessels
There is abundant evidence of cultivated grapes in the early Bronze Age (from 3200 B.C.). Findings of tartaric acid in wine presses (e.g. Titriṣ Höyük) testify that viticulture and the cultivation of fruits had become a common economic system in southern Anatolia.
Accordingly, a large variety of containers for storage, transport and usage of different foodstuffs, including wine, appeared at the time. Clay vessels of different size are mentioned in Hittite texts: "huppar, harsi, huptushi, hanissa". The pots would be used for wine, oil, beer, and other food items. Unfortunately we do not have any information on the exact size or usage from those early data. 140 The large clay vessel, Hettite "luli", was possibly used for pressing grapes. 141
The archaeologist T. Özgüc referred to the large clay tubs from the Kültepe excavation (ca. 1900 B.C.) as objects used for making wine because they were found standing in a corner of the room close to the fire place. 142 Most of these big "tubs" have a built-in bench, though, and must therefore have actually been bath tubs.
Foto 11
13 Hittite clay bath tub, not a wine vat, (ca. 1700 B.C.), from Kültepe excavation, Archaeological Museum Kayseri, Turkey
Foto 12
14 Large cult vessel with bull's head, (ca. 1800 B.C.), from Kültepe excavation, Archaeological Museum Kayseri, Turkey
According to Müller Karpe who took part in the excavation of the Hittite main city, "harsi" and "harsialli" were large vats from temple depots and could take 900 to 1750 litres. 143 Smaller clay vessels were called "harsiyallani". Their rims were rather broad so that the vats could be firmly sealed. Excavations at Kültepe, Alisar, Masat and Acem Höyük brought a large number of similar clay vats from about 1700 B.C. to light. 144 Small wine jars with a long neck were numerous at Hattusha. With a capacity of ca. 1.5-2 litres, they served for storage and transport of wine. The name was "hanelissa". 145
Foto 13
15 Excavation Acem Höyük, Udo Hirsch with a rim piece of a küp of about 4000 L. capacity, remains of küp (ca. 1600 B.C.) on the ground
Drinking vessels
Beaked jugs are often depicted in Hittite iconography. They are called "ispantuzzi", meaning libation vessel (Müller Karpe 1988:25). Such wine jugs are known from the Old Assyrian colonial period to the decline of the Great Hittite Empire about 1200 B.C. 146 One of the most spectacular items from the Kültepe excavation is a 600 L. clay vessel. The spout in the upper part is a bull's head.
Foto 14
16 Beak-spouted vessel from Hattusha (ca. 1650-1450 B.C.), Archaeological Museum Bogazköy, Turkey
Foto 15
17 Early Hittite wine vessels (ca. 1500 B.C.), Archaeological Museum Bogazköy, Turkey
The famous large relief vase from the Inandik Tepe excavation (1600-1400 B.C.) portrays some part of the making of wine as well as different kinds of vessels for drinking and for transportation. Numerous rather large clay vats were also found at Inandik in the oldest Hittite temple. These containers were certainly not only used for storing goods but also for making wine. The libation-arm, Hittite "kattakurant", is one of the rather unusual drinking vessels. Quite a few pieces were located in the temples of the Upper City of Hattusha. They are classified as cult devices of key importance. Drinking vessels in the form of animal heads, Hittite "bibru", were also fashionable between 2000 B.C. and the collapse of the Hittite Empire in about 1200 B.C. 147
The most often portrayed drinking vessel, however, is a small thin bowl named "huppar". It was mainly used with libations but was also an important symbol of successful royal leadership.
Foto 16
18 The banquet of Asurbanipal and his wife with "Patera" (sacrificial bowls),668-627B.C., Assyria – drawn by Hacer Özkaya from a template by Perrot,G. & C.Chipiez: A History of Art in Chaldea and Assyria, London 1884
Foto 17
19 Drawing of a silver belt, Banquet, sovereign with sacrificial bowl, ca. 3rd millennium B.C., from Ani, National Museum, Tbilisi, Georgia
Wine vessels in Mesopotamia
Southern Mesopotamia was a typical beer country. Although more than three thousand documents are known from the trading town Nippur, there were only very few indications of grapes, mostly called "geṧtin had", i.e. dried grape or raisin.
Most excavations from the 4th millennium B.C. provided some clues about grapes in the neighbouring countries, because grape seeds were found regularly among the excavated items. Many large clay vats were standing in storage room no.116 in the palace of Mari. They were about 1.5m high, with a circumference of 128cm and an opening of 50cm in diameter. The vats were standing on a pedestal. They were used for oil. Yet, in a letter by Zimri-li to his wife Sophtu, wine was also mentioned. He wrote, "Fill the vats with red wine and seal them with the following seal…" 148
The term "pithos" was originally only given to large clay vessels from Minoan palaces at Knossos, which were used to store different products. Storage capacity ranged from 50 – 1500 L. In the Mediterranean culture, the term was later assigned to any storage- and transporting vessels.
Foto 18
20 Phythos (ca. 3rd millennium B.C.), National Museum, Tbilisi, Georgia
Excavtions of Myrtos on Crete revealed that this kind of receptacle had also been used for wine. A pithos containing pressed grape skins, grape seeds and stems, dated ca. 2170 B.C., was discovered in room 80. 149 The finding might indicate fermentation in large containers. There is often a small hole in the bottom part of the pithos, which would also indicate that the container was used with wine making: If the wine is fermented together with the total amount of mash, a lot of grape skins, seeds and stems remain at the surface. To take the wine from above one first has to get through a thick layer of grape residues, but the painstaking job can be avoided by drawing the wine off the bottom part of the pithos through a small hole.
The form of clay vessels slowly begins to change from about 2000 B.C. onwards. The so far flat bottom of large storage- and transporting vessels is becoming rounded. The heavy content of the vessel generates a lot of pressure on its weaker parts, i.e. between the bottom and the walls. In a rounded vat the pressure is reduced and the pithos is more stable. 150
Trade and transport of solid and liquid goods
About 2000 B.C. Karkemish (on the border of today's Syria and Turkey) was the centre of wine trade. At that time ships used to carry wine in up to 600 amphorae of 30 L. each and in large pithoi of 600 L. each. In the Akkadian language these large containers were called "naspakum". Naspakum with a capacity of up to 3000 L. were utilized in Babylon. 151 A short time later, about 1700 B.C. there is first evidence of the use of animal hides ("ziqqu") for the shipment of wine from Syria. According to some famous description, 10,000 animal hides filled with wine, i.e. wineskins, had been at the guests' disposal at Ashurnasirpal's "housewarming party" in his new palace at Kalah (ca. 880 B.C.). 152 Another documentation of the use of wineskins for the transportation of wine is the earliest visual illustration on Shalmaneser's (860-824 B.C.) bronze doorway at Balawat. In his annals, wine is mentioned as tribute from the region south of Lake Van and from Unki, a place close to Alalakh in Syria. 153
Georgian names for wine casks
The earliest Georgian clay vessels originate from the ceramic Neolithic. They have the same "hole-in the ground" U shape as the familiar clay pots from other regions. During the following Chalcolithic (Eneolithic) period no considerable changes in shape or utilization took place. Regional differences were only becoming apparent in the course of the Bronze Age.
According to A. Bochotschadze, wine vessels similar to today's containers for wine (kvevris) first existed in the middle of the 1st millennium. Bochotschadze sees the reason for differences between the Georgian vessels and those from the Mediterranean and from Mesopotamia in autonomous developments in the relevant regions. Clay pots made especially for the production and storage of wine are first known from the 7th century B.C. They were not buried in the ground yet.
However, even these containers were rather small till the 3rd century B.C. The bottom was flat and wide. With clay vessels from the Colchis (West Georgia) the bulbous part and top were decorated with ornaments. With the beginning of the 3rd century B.C. the shape of wine vessels changed. The neck became cylindrical, and the ornamented belly larger. Many clay vessels now had handles to make carrying easier. Some vessels were put halfway into the ground. From the 4th century B.C. onwards it was common to bury complete wine vessels, particularly larger ones, in the ground.
Even in the 3rd century B.C. clay pots would also be used to bury the dead. Judging from the additions to the pots the deceased had certainly not been too well off in life. Therefore it is assumed that only lower class people were buried in such vats, maybe winegrowers who had owned the pots in life time.
Before the 11th century A.D. clay vessels used for wine were just buried in the ground. After that they were coated with a layer of limestone. The reason was probably the rather strong earthquake from 1088-1089. Larger kveris as they are still in use in today's Georgia are known from the late antiquity and early feudal times. 154
The oldest historical records of Georgian script were found in 1950, in a Georgian monastery in Bethlehem, Palestine (ca. 430 A.D.) and in Bolnissi Sioni monastery in Georgia (ca. 480 A.D.). Names and use of different clay vessels have not been made out yet. However, descriptions of Georgia and technical terms for certain items had already been present in writing in other countries during classical antiquity.
With recent research activities numerous ancient terms for vine, grape varieties, viticulture, wine, wine processing as well as expressions for drinking vessels and wine containers could be specified in the Georgian language. In Georgia like in many other countries clay pots were doubtlessly used for many other foods apart from wine, but I would like to list a few technical terms for wine vessels made from clay:
Tschuri, Kvevri, Dergi, Lagvani , Kvibari, Kubari, Lachuti, Kotso, Lagvni, Lagvnari, Chalani, Deda Kvevri, Zedasche-Kvevri , Sababilo Churi, Tschassavali.
"Tschuri" is an ancient term that was common for all kinds of clay pots all over Georgia. The word is still used for large and medium sized wine casks. According to Sulkhan-Saba Orbeliani, "tschuri" is a container for tkbili, meaning sweet. Tkbili is the Georgian name for fresh unfermented grape juice. 155 The word "Tschuri" has only remained in West Georgia. 156
"Kvevri" has been known since the 15th century but as a technical term for a wine cask it first became common in East Georgia in the 17th century and later all over the country.
According to Giorgi Barisashvili, the semantics of the term "kve-vri" is closely related to the Georgian word "kve-vit" meaning "below/ down/ bottom" and thus refers to a vessel whose bottom is placed into the ground. 157
"Dergi" is also an old term, which is used in Meskheti even today (Orbeliani. Sulkhan-Saba, 1685-1716)
"Lagvani" is still used for large and medium-sized vessels in West Georgia (Odischi), (Djavachischwili, Ivane1986).
"Kvibari" is a small container for wine, used in Guria und Imeretia in West Georgia (Djavachischwili, Ivane. 1986).
"Lachuti" is the name for a small wine vessel in Mengrelia, West Georgia (Djavachischwili, Ivane. 1986).
"Kotso" is also a small vessel for wine in Georgia, mainly in the west (Orbeliani. Sulkhan-Saba, 1685-1716).
"Lagvnari and Chalani" are ancient Georgian terms for wine containers of different form and for different usage.
"Deda Kvevri" The name comes from East Georgia, meaning a "mother kvevri" or the "main kvevri", which contained most of the family's wine supply (Barissaschwili, Georgi. 2012).
"Zedasche Kvevri" is a specific term indicating the use of wine. The "Zedasche Kvevri" existed mainly in Kacheti (East Georgia). It was meant only for wine that was made extremely carefully for ritual acts at church or for special family festivities. 158
"Sababilo Churi" is another content-related term. "Babilo" is the Georgian name for vines growing on trees. There is written reference to "Sababilo Churi" from the 12th and 13th centuries. A "Sababilo" is actually a churi made from grapes that have grown on trees. 159
"Tschassavali" is a fairly new term.
During the late Middle Ages, the demand for wine was increasing so that wine barrels with a capacity of up to several thousand litres were being constructed. Very large vessels were given a name of their own. As the only way to clean such an extremely large container was by getting into it and descending to its bottom, the barrel was called "Tschassavali" (from the verb tschassvla – to descend).
Giorgi Barissashvili reported on some kind of modern utilization of the "Tschassavali" in Soviet times when the "Dry Law" had been introduced by the secretary general of the Communist Party, Andropov: With temperatures rising to over 40°C. the people of Kacheti thought of a typically Georgian way to escape not only from the heat but also from Andropov. Wine lovers used to take food and a fine drop of chilled Kacheti wine down into a large "Tschassavali". After a short time wonderful polyphonic singing came from the "– kvevri and even the deep "bass"-sound of the large clay pot was clearly made out.
Foto 19
21 Kvevri from Alaverdi monastery, East Georgia
Turkish names for clay vessels
As in Georgia, the great variety of names for clay vessels in Turkey goes back to terms used in ancient times. Even the terminology with different ethnic groups or whole regions used to vary quite distinctly. A lot of those technical terms were later simplified and generalized. I am listing some of the most frequent terms still used for clay vessels in today's Turkish:
"testi" is a small clay pot.
"küp" is a large clay vessel with a capacity of 40 to 4000 litres depending on its use.
"seytin küp" is a barrel for olive oil.
"sarap küp" is a large clay vat for wine.
"pekmez küp" is a barrel for grapes and for fruit syrup.
"un küp" is a receptacle for flour and cereal.
"turshi küp" is used for pickled vegetables and fruits.
"Tağar" looks like one half of a big clay ball and is used for the fermentation of wine and for other purposes.
"tandir" is a clay pot for baking bread.
Foto 20
22 Wine depot and loading site. Large küps (up to 4000 L.) inserted into the gravel of a river estuary to keep the wine cool before loading it onto ships. ca. 2000 yrs. old, South-West Turkey
Foto 21
23 Fruit press for pekmez and wine, ca. 9th cent. B.C., Gökcetoprak, Turkey
Foto 22
24 Wine amphorae with big sealing plugs, in the bell tower of a monastery in south-eastern Turkey, photo by G.Albrecht, 1980
Foto 23
25 Küps for pekmez, for sale at Beyṣehir, Turkey
Foto 24
26 Küps for olive oil, Mediterranean coast, Turkey
Foto 25
27 Large küps for olive oil, wine and other foods, for sale near Izmir, Turkey
Foto 26
28 Ancient type amphora, still used on the coast for water, oil, wine, Turkey
Foto 27
29 Tağar/ küp for formentation of wine and other usage, Turkey
Foto 28
30 Küps from East Anatolia for flour, pulses and dried fruit, Turkey
Foto 29
31 Large küps for pekmez or wine, Turkey
Foto 30
32
Foto 31
33
Some further information on pre – and early history should be added to the above brief insight into the currently traditional naming of different clay vessels in Georgia and Anatolia
Growing of vines, but not for wine – Akkadian and Sumerian language terms
In both the Akkadian and Sumerian languages "geštin" means vine, grape and, more generally, juice. Although it is commonly assumed that the term also stands for wine, a final definition remains unclear. The Sumerian character for vine had been applied since the 3rd millennium B.C. Later on there were also reports on wine and its use with gods and kings. Vine growing was certainly an essential part of Babylonian agriculture, but vines were not grown to make wine. The symbolic significance of the vine would often be seen in the context of "lal" (grape syrup) and "geštin" (grapes, must, wine). In Mesopotamia, in the 3rd millennium B.C., these words – in a figurative sense – stood for wealth and success.
In Akkadian "dispu" and "karanu" were equivalent words to "honey" and "wine". It is more likely though that the terms indicated a syrup concentrate made from grapes, dates or figs. The fruit juices were heated at a low temperature and thus thickened. The result would be a well keeping concentrate. The Akkadian word "dispu" has actually lived on in the Arabic term "dibs" for grape syrup.
The translation of "geštin" as "wine" in Sumerian written documents is probably incorrect because wine is hardly ever remarked on in Babylon. The main grape products were raisins. The common Sumerian term "geštin hea" meaning "dried grape" is equivalent to the Akkadian "muziqu", i.e. "something that has been sucked away". Grapes that were not dried were most likely processed to make long lasting grape syrup.
The Sumerian term "a geština", literally translated "grape water" is equivalent to the Akkadian word "tabatu", which can be a sour drink or vinegar. Very big grapes were called "ini alpi" meaning bull's eye. The translation of "sahtu" is "pressing something". So it can be assumed that these expressions referred to juice in general. 160
In ancient Babylon, vines along with apples, figs, dates, and other fruit trees had doubtlessly been grown in large gardens ever since the 4th millennium B.C. The name for a fruit garden was "kiri". 161 Nabonidus, the last Babylonian king in the 6th century B.C., stated that wine did not exist in his country. But his words do not imply that grapes were non-existent either. Babylon was a beer country and beer was available for everybody whereas the sophisticated product wine would have been affordable only for an elite. Besides, appropriate technology for longer storage and maturing of wine did not yet exist. 162
The oldest words for wine
The Hittite name for wine "wiyanas / wa-a-na-a-s" is considered as the root of the Ugaritic term "yn" and the Hebrew term "yayin" for wine. 163 The same ideogram appears on early Greek (Linea B) clay tablets from Knossos. In classical Greek wine became "oinos" 164 "Winuwanda" in the Hittite empire (ca. 1300 B.C.) was known as the city of wine and was later given the Greek name "Oinoanda". 165
1200 B.C. and later
In the Middle East, many states, temples and palaces were devastated by invading groups at this time. Only small settlements were left behind, without any kind of script, cult or culture. In some regions the Dark Age lasted for more than three hundred years. With the beginning of the 9th century B.C. earldoms, small kingdoms, cult sites, city states and eventually empires were forming again. Findings at excavation sites have documented that more and more trading goods of all kinds were transported in suitable vessels. The Canaanite pointed amphorae are already known from an earlier period. The Greeks developed their own separate version of amphorae for transportation. The Corinthian type formed during the 8th century B.C. Each city-state had its own type of amphorae so that their places of origin were clearly recognizable.
Plini compared different resins for sealing clay vessels with each other. The taste of the wine varied according to the resin used for sealing the vessel. 166 Resin was found in a great number of ancient vessels. The use of resin to make Retsina wine would become popular much later – and still is today. 167
Literature on classical antiquity clearly reveals what used to be done with fruit products in order to achieve a pleasant taste and a good price. Even early test results of residues in clay pots give evidence of different plant components that would have been added to make "wine" drinkable, let alone palatable. With the beginning of writing, "recipes" from Mesopotamia, Egypt and Anatolia are presented. In classical times, Plini and others write about the large number of additives. His account actually indicates that at the time it was obviously still rather difficult to preserve and store good quality wine. The quality of the wine equally depended on the form of the clay containers for storage and transportation and the way they were stowed. Illustrations of wine production, wine consumption and the relevant utensils used to be quite popular on the walls of temples and tombs or on ceramic objects.
The Mediterranean region, Anatolia, Greece and the Greek islands were among the first wine making areas. Wine production in other countries began some time later, largely following the spreading of Neolithization. More than two thousand years ago, non-autochthonous grape varieties were already grown in addition to original produce in many places and specialized knowledge was adopted from other producers, in particular when they were successful on the market.
Later on, many indigenous species were completely wiped out by plant diseases and enemies. In the course of time modern techniques have continuously been replacing traditional know-how, experience and tools. So-called "necessary" ingredients which are applied to make modern wines palatable and
durable, have multiplied. Instead of the old herb garden we now need a medium-sized laboratory to produce wine.
Summary
Baskets, leather sacks, stone dishes and -tubs were surely some of the earliest receptacles. In pre-ceramic Neolithic times they were used for the making and drinking of beer. Coarse pottery for domestic use was characteristic of the ceramic Neolithic. Ritual acts became more and more important and complex during the Neolithic period.
The large variety of murals at Chatal Höyük as well as the brilliantly crafted cult vessels from Hacilar are outstanding examples of the late Neolithic.
In the first half of the Chalcolithic, ceramic objects were mostly plain commodities for the agricultural community. Special pottery vessels were still rare. Ceramic receptacles and pottery devices of varying size and form first occurred in the second half of the Chalcolithic period when cultural, administrative and trading centres were growing fast. Ruling monarchs and temple owners were competing with sophisticated cultural assets and elitist commodities. Trade means exchange, so the complete Mediterranean is soon engaged in this development. Whoever is able to afford ceramics, can get them of high quality and for whatever purpose. Vines and other important plants are cultivated in the gardens of temple territories and on royal farms. Containers for wine and other foodstuffs are manufactured in associated workshops.
With the invasion of alien ethnic groups kingdoms and temple states are beginning to break up in 1200 B.C. Three hundred years later, small villages once again slowly turn into larger centres and eventually into city states and kingdoms. Many goods that were formerly restricted to the elite are now available to the entire population. Even the simple peasant can make pekmez and wine not just for his own use but he can also sell his products. Countless documents from classical antiquity to this day describe how the story of viticulture and its relevant receptacles has continued.
Today
The general public has hardly noticed that in fairly remote and economically – still – irrelevant regions the quality of being authentic has been preserved. Traditionally working farmers still utilize simple methods and means. Thus, clay vessels are still in use for making and storing foodstuffs, wine in particular.
These traditional manufacturing techniques and their products are at present enjoying a revival wherever viticulture and viniculture are popular. Authenticity has become a quality concept.
(Udo Hirsch, Güzelyurt, July 2016)
Zur Geschichte des Weins